It's simply astonishing that brands haven't woken up to how low reach figures are for their "organic" posts on Facebook. We're no longer in 2009. Gone are the heady days of 40+% reach on even the most lazy of updates – today you can achieve double figures in one of two ways: with extraordinarily viral content, or by paying for reach. Paid reach is achieved by paying to boost a post, or for an ad.
The graphic below sums up the current state-of-affairs and it is only going to get worse. In the last month alone I've had a popular and highly engaged Page with 14,000 fans see reach of just 10 (yes 10) people on one link post. With a more viral piece, another link post for the same Page got a reach of over 10,000. It should be noted that even with such a high number reach to fan base was still only 39%*. And we all know how difficult it is to achieve viral content.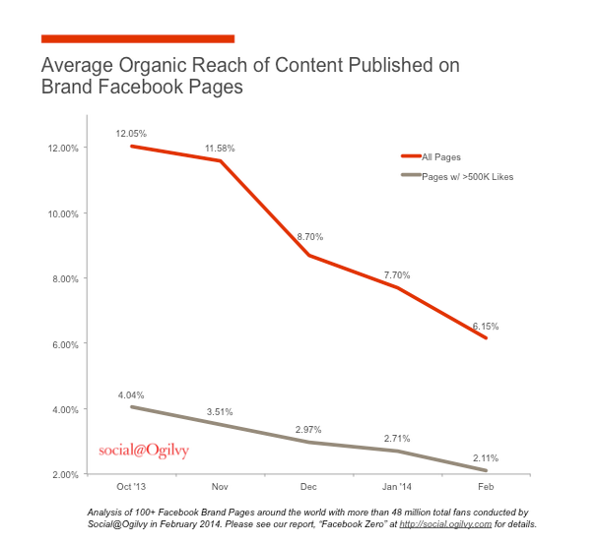 So reach alone is one very good reason for paying for exposure. But are there others?
Because Facebook is now a Pay to Play platform
As we've said, organic reach is effectively dead – the free ride departed years ago. You need to pay to boost posts to your fans, and you'll certainly need to pay if you want to make a splash beyond your existing fan base. Brands got into a mindset of Facebook being like PR – apparently free advertising. But with its ever increasing popularity, and the need to monetise, you're not going to achieve much exposure even for non promotional content without allocating some budget. We've talked so far about content marketing type posts. But Facebook also offers a great opportunity to reach out beyond the customer base with far more promotional intent. Facebook ads are way more effective than the banner ads of old and they are by no means that expensive. It is far cheaper to connect using Facebook than other channels – look at the graphic below (source Brian Carter, Moz) to see how Facebook squares up favourably even in comparison with Google PPC ads.

Because Facebook is where your customers hang out
Pretty much everyone is on Facebook – I'd guess that even your Gran goes in for a bit of online stalking there. It's the place we all hang out online and Zuckerberg et al are working hard to keep us there. It's increasingly the place we go to for news (Instant Articles have been a big success and are about to roll out to all Pages). It's the place we organise our social gatherings and chat to our friends.
Even B2B customers use Facebook: AdRoll reported an increased Click Through Rate of 140% and a reduction on Cost Per Acquisition of 42% on B2B ad spend in 2015. And of course behind every B is a C!
Because Facebook's targeting capacity is awesome
Multiple layers of behaviours, interests, demographics, connections, age ranges, workplace, relationship status, education level, languages, location and more can be overlapped to precisely target those people most likely to buy. You can even exclude your existing customer base – eliminating wasted eyeballs. We provided a detailed guide to Facebook's targeting capacity in a previous post. Check it out.
If you see a bunch of poorly targeted ads in your newsfeed it's likely nothing to do with Facebook's targeting ability, simply money-to-burn naive advertisers who aren't using it properly. They're probably the same advertisers who complain when they don't get the results they expected.
Because you can talk to qualified leads
You can turn window shoppers into buyers. Website Custom Audiences mean you can serve ads to people that have been on your website, even visited specific pages on your website. This enables you to gently move people down the sales funnel with an evolving series of ads, or capture email addresses from people you might otherwise have lost.
Remarketing also lets you personalise the ads you serve based on what they've done – pages visited, time spent on site, cart abandonment, white paper downloads. The higher the relevance, the greater the chance of conversion.
Because it is a place to find "clones" of your existing customers
Often customers share similar demographics, interests or behaviours. Facebook's Lookalike Audiences feature enables you to target people that are similar to existing fans, your mailing list, or even your top 100 customer list.
Because it is a place to remarket to existing customers via Custom Audiences
Your emails might be going to spam, or simply going unseen because of your customer's out-of-control inbox. Custom Audiences allow you to upload email addresses in order to serve ads to existing customers. By integrating your CRM data you can utilise highly targeted and effective remarketing ads.
Because it is a great place to reach people on mobile
Mobile ads are a genuine Facebook success story. 87% of Facebook's Monthly Active Users are on mobile and they are often browsing whilst away from other distractions (such as during the morning commute). Even in the office, when they are not on desktop, ads tend to pop up while people are idly browsing. This makes them great for certain message types or for more general awareness building. Ad types such as Lead Generation ads are designed with fat fingered mobile users in mind; auto-completing email and address fields for frictionless data capture. AdRoll data shows triple digit impression reach gains, double digit CTR gains and double digit reductions of CPC on cross device FB retargeting. Mobile app install ad campaigns are currently driving nearly 14 times more installs year on year. Adoption is growing and growing fast.
Facebook is also one of the places where your ads can still be seen on mobile. With ever increasing ad blocking software (mobile network 3 have recently announced that they are filtering ads out of all browsing – Facebook ads and Instant Articles excluded), it is increasingly difficult to reach a mobile audience.
Because it is an increasingly essential element to an integrated marketing campaign
Back in the day, you paid for your marketing campaign on a range of channels and left the work on Facebook to the PR team – they uploaded the story behind the campaign, a few behind-the-scenes images and perhaps some news story about the new product launch, all of which got great reach because Facebook wasn't penalising what it saw as promotional content. Those days are long gone and brands see significant performance boosts when marketing campaigns are rolled out with an element of Facebook ad budget alongside everything else.
*Facebook keeps the figures of the number of fans who see each post pretty under wraps. You have to go to Insights, export data by post and dig around for the data on "Lifetime Post reach by people who like your Page". Take that figure and divide it by the total fan number for a percentage of actual reach to fans: you'll be surprised how low this really is. We reckon it's virtually impossible to get much more than 40% without boosting no matter how hot your post is.
Want more help with Facebook ads?
Check out my brand new course 'Zero to Hero with Facebook Ads' in the Digiterati Academy. You'll fast track all my knowledge of what's working to create great Facebook ads right now and feel confident in your ability to run an effective campaign.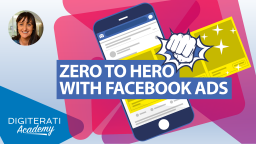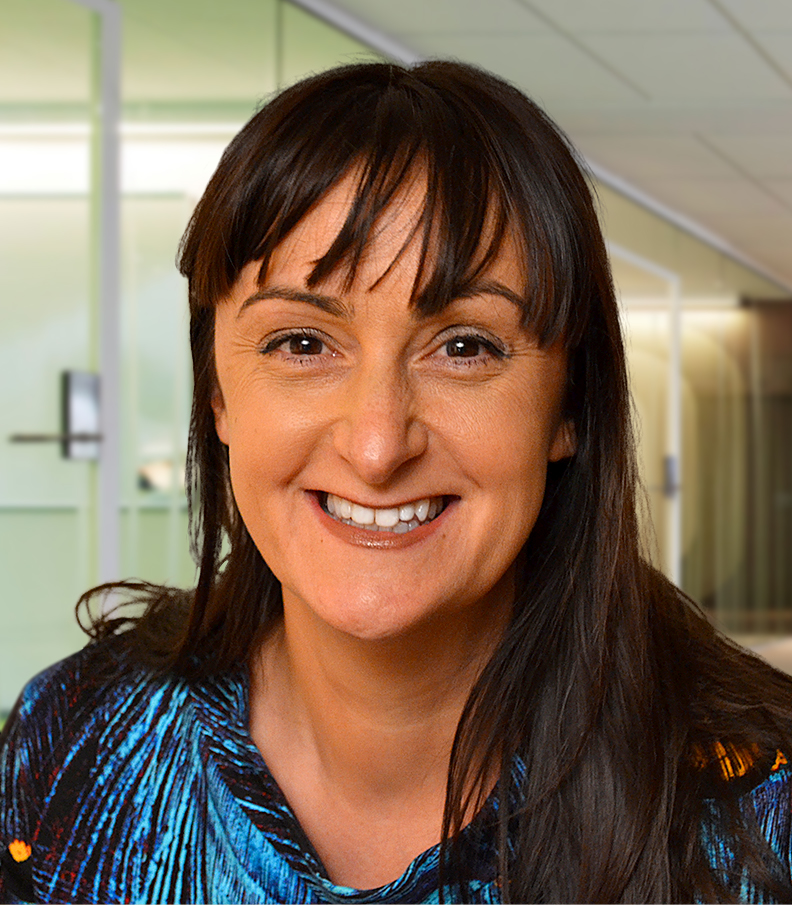 Comments