Our in-company training is great for businesses with a decent training budget and especially those that want to upskill an entire team.
But what about smaller companies, one person businesses or for individuals looking for a new skill set?
Affordable online social media and digital marketing training
Our online Digiterati Academy presents all our training expertise in one place that you can access at a time to suit you. Take our (virtual) trainer home, curl up on the sofa and watch the video courses with coffee and cake for company.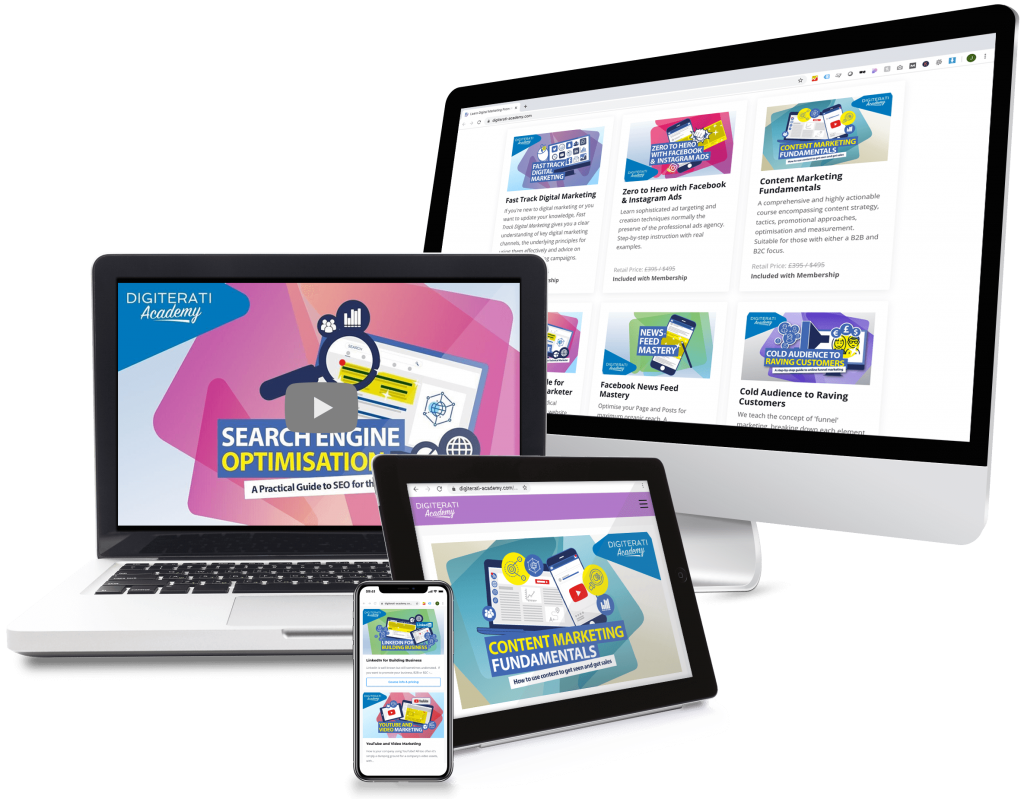 Easy-to-follow, bite sized video lessons that you can start and stop when it fits your schedule, wherever you are.
Online digital training: what's included?
Digiterati Academy isn't full of tired, outdated techniques and material. It's constantly updated with the things that work right now, not last year.
If there's something new you need to know, rest assured we're ON IT!
Courses
Facebook News Feed Mastery
Zero to Hero with Facebook Ads
Fast Track Digital Marketing
Content Marketing Fundamentals
The Essential Guide to Facebook Groups
A Step-by-Step Guide to Online Funnel Marketing
Facebook Page Fundamentals
YouTube and video marketing
Facebook Audiences and Ads Targeting
Using LinkedIn for Marketing a Business
Using LinkedIn for Professional Networking
How not to £@%!-up on social media!
Masterclasses
The Facebook News Feed algorithm
YouTube and video marketing
Building brand impact using content and thought leadership
Facebook cover photos: size, style, best practice
GDPR: A comprehensive guide
Messenger – the future of social customer service
Social media platform verification
Facebook Insights 101
Setting up a shop on Facebook
How to use Facebook Events successfully
Facebook competitions done right
Facebook ad objectives
Facebook's post options explained
How to split-test Facebook ads
Using hashtags effectively on Facebook
The essential guide to Facebook Offers
How to boost posts on Facebook
Going viral: a funnel marketing case study
Optimising FB for local search & visibility
Reach killers: avoiding the "L" word
Like or follow: what's the difference?
Facebook Group member request settings
How to use Events well on Facebook
The essential guide to Facebook Offers
State of Social
How to develop a social media policy for your business or clients
Coming soon
Email marketing
A comprehensive guide to mastering online reviews
Idiots guide to using the Facebook pixel
Business Manager
Google Analytics
Search Engine Optimisation (SEO)
WordPress and blogging
Amazon Marketing Services