Every marketer thinks they can do Facebook marketing. But organisations are seeing falling engagement on their Pages and tumbleweed on their posts.
Facebook evolves at eye popping speed, rolling out new features and algorithm updates on a near daily basis. Keeping on top of what works today is increasingly challenging, especially when Facebook is just one of your many responsibilities.
Fast track the very latest insight and best practice with one of the UK's leading Facebook Marketing experts, Marie Page.
Our one day course is suitable for micro businesses, SMEs, not-for-profits right through to leading brands
.
We explore masses of content ideas and case studies throughout the day which you can adapt and use in your own sector
.
Even for an old hand at Facebook marketing we share new approaches to inspire and inform further innovation
.
We include the very latest new releases from Facebook (of course right now we don't even know what they will be), and will cover:
Advanced Facebook Marketing Training: Program Overview
Mastering the Facebook News Feed algorithm
Some Pages see reach as low as 2% of fans – why is this and what can you do about it?
A guide to NFO (News Feed Optimisation) and the very latest on the News Feed algorithm
What is the Relevancy Score and what can you do to increase yours?
Content types – why some content types fly and others nosedive. Getting creative with under-utilised content types
How to avoid using "trigger words" that result in algorithm penalties
How to drive up engagement
When and how you should pay to boost a post for maximum effect
Getting the basics right
Getting grey or blue tick verified
Names, categories, about text and Our Story best practice
Cover image best practice and data capture opportunities
Use of CTAs
When and how often to post. Is there a magic time?
Building fan numbers and converting them to customers
Are hashtags worth the effort on Facebook?
Setting up a Shop and Services section on your Page (even if you have nothing to sell)
Engaging on Facebook:
Facebook Groups – your secret weapon for community building and engagement
Using Facebook Messenger for customer service and in effective advertising
Getting competitions right and other tips for staying out of Facebook Jail
Ideas for increasing fan numbers without resorting to Page Like ads
Creating content for Facebook:
Ideas for devising new content without the stress
Developing user generated content and how to re-purpose that in other communications for maximum effect
Best practice for those posts when you do need to sell
Metadata tricks and tips
Using media:
Getting serious about video with Facebook Live, playlists, optimisation and more
Using photographs well even on zero budget
Image size best practice
Useful tools:
Apps and software to help you manage your Page
A live guide to Facebook Insights
What about Facebook advertising?
We have a separate course dedicated to Facebook advertising or can do a bit of a mix and match combining elements from the two days if required.
With an 80/20 split organic/paid the following advertising content we can integrate both approaches throughout the day:
Advertising:
Understanding the Facebook ads infrastructure
Prioritising your ads targeting for effective conversion
Digging into custom audiences and detailed targeting
The anatomy of an ad that converts
Using Cialdini's weapons of persuasion
A quick look at ads in the context of funnel marketing
The cost of a low relevance score and how to improve it
What about the "Other" social networks?
Check our out other training day options for YouTube, Twitter, LinkedIn, Instagram etc.
Our approach to delivering training
Each day is unique with content devised on what you have told us you need. We'll talk to your team in advance to ensure you get exactly the training you need. Content is tailored to your industry context and we can even incorporate a review of your (or your client) Facebook Pages.
Our friendly trainers are real life practitioners in their subject who love to share their expertise. Everything is workshop-style with plenty of interaction and time to ask questions.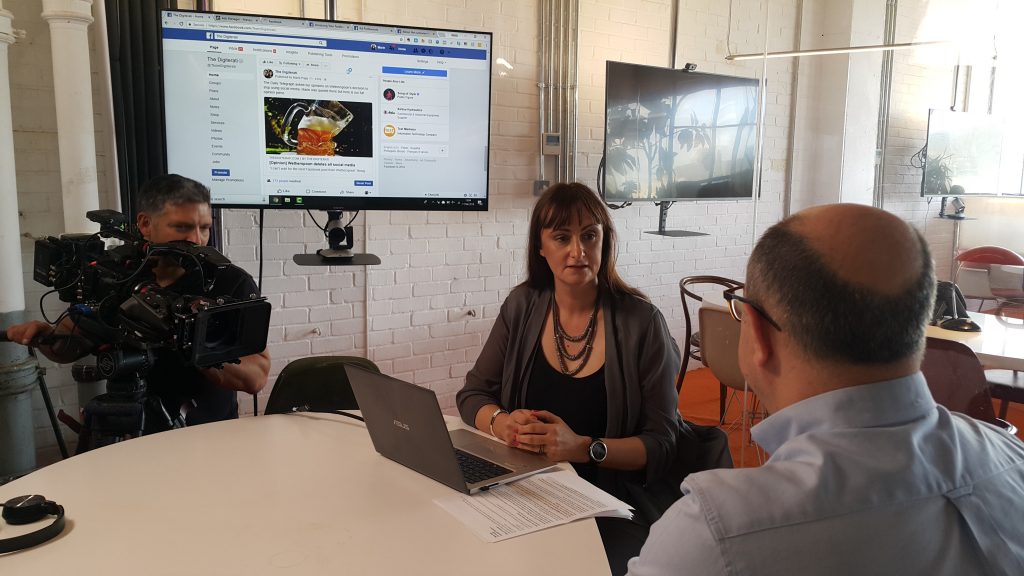 About the Trainer
Marie Page is a social media communications specialist and co-founder of The Digiterati, a collective of leading digital marketing experts focussed on consultancy and training.
As one of the UK's leading Facebook marketing experts her book "Winning at Facebook Marketing with Zero Budget" enjoys 5* reviews on Amazon. She is also author of the Smart Insights' Smarter Guide to Facebook Marketing edited by Dr Dave Chaffey and the Smarter Guide to Facebook Advertising.
Marie is a speaker at conferences such as BrightonSEO as well as numerous podcasts. Her work has been featured in the Huffington Post, the Daily Telegraph, Daily Express and she also writes for Social Media Examiner and recently appeared on ITV's current affairs show 'Tonight' giving an extensive interview about Facebook data privacy and ads targeting.
In addition to her consultancy and training work with The Digiterati, Marie runs an award-winning ecommerce company grown almost entirely through social media and email marketing.
Marie holds a Masters in Digital Marketing (even her award winning research topic was Facebook Marketing), and is a Fellow of the Chartered Institute of Marketing where she has also worked as an examiner on their digital marketing qualifications.
Facebook Marketing Video Training
Too far away to have us provide training at your office?
Check out our online video training at the Digiterati Academy.
All the same content from our face-to-face training but delivered online. Access the materials at your own pace. And with our AAA membership you'll be able to access all the other courses in the Digiterati Academy too.