This feature, written by The Digiterati co-founder Marie Page, is part of a case study on how a small businesses put together an integrated digital campaign for Black Friday. Click here to visit the report home page.
The results
The results weren't exactly what I would have predicted and it felt a lot harder work this year than last. On the positive, we spent about £175 on Facebook ads and had a very healthy boost in sales. Email marketing was the most effective medium (particularly to our own mailing list).
The UK seemed to have really embraced Black Friday and Cyber Monday with stores reporting record sales. However, in the US the New York Times cited Black Friday Fatigue as responsible for an 11% decline in sales since last year. Other possible factors cited were the residual effects of recession, deep discounts in the run up to Thanksgiving and the conditioning effect of continual sales leaving shoppers holding out for even better offers. We certainly saw plenty of that. Despite a bigger advertising push than last year, our sales were a fair bit lower (the majority of our customer base is in the US). And despite a near identical offer to last year, it felt that there was a lacklustre response to emails, as if customers were wanting something more.
Firstly, there was clearly a lot of competition on newsfeed over the entire period so I went in on the Friday morning and upped my bid price on all ads. This worked to increase my paid reach to more acceptable levels.
My A/B split test showed a clear winner in CTR and conversion (the silhouette image rather than the pack shots) so the loser ads were switched off.
My organic posts got very poor reach. I wasn't entirely surprised to see this. Firstly they are promotional (and I suspect that the algorithm was adjusted down for words like "Sale" "Black Friday" and other discount indicators). Secondly, whilst we have plenty of paying customers, our marketing emphasis is that of delivering great content.  Reach of good quality posts is often over 35% and often well above that but I've never found that posts about products get many clicks or likes and the viral reach of them is virtually zero. Similarly the open rate on the email was much lower than our usual content driven weekly newsletter. I'm sure as well that a good proportion of people were simply sick of all the promotional messages being bombarded at them over the weekend.
Also we know that Facebook dislikes multiple uses of the same image. So once the images were out in one format (say an ad or offer), organic posts using the same image would suffer from poor reach. This is useful learning for the future – when you are using an image in an ad, make sure you create something different for organic posts. And the beauty of this approach is that your organic posts can have as much text on the image as you like (although arguably Facebook isn't keen on images with lots of copy – certainly penalises any it thinks are meme like).
In terms of audience, our Lookalike audiences worked really well for CTR and conversion. We'll definitely continue to craft ads for them in the future. We'd expect fans to respond and they did, but mainly in response to email marketing. I suspect that the Facebook ads merely acted as a reminder to them (perhaps when they were on mobile and out and about) and when back to desktop settled down with the email to make their sale purchases.
The initial Musicademy Offer got some good traction (34 offer claims from a Reach of 6,276 and spend of £40) so I decided to re-work the idea on Cyber Monday for the Worship Backing Band brand. Again I created an unpublished page post offer, made it live on the Page then scheduled the Offer Ad for a few hours later.
Here's the Worship Backing Band Offer and the email Facebook sends to those who take it up: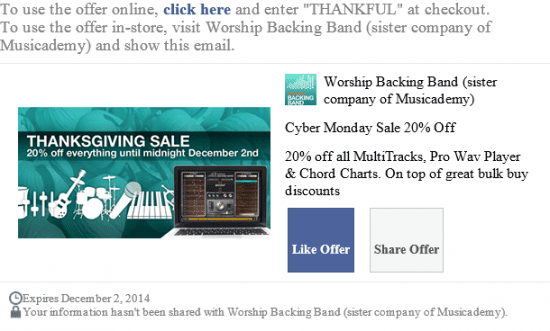 (Don't you just hate Facebook's default typeface and styling of this message?)
Customer reaction
There was the inevitable set of moaning from British customers about why we (as a UK brand) were embracing this American import and bowing to the gods of consumerism. It was great to see British fans coming to our rescue without us having to justify our actions (see a snippet from the conversation below).

We also had the odd email from people miffed that they'd purchased at full price a few days before (we sent them some free stuff as a consolation and to our delight they ended up buying even more). One emailer told us we were being tight at only offering 20%. I didn't see many retailers being that generous across their ENTIRE RANGE (including titles that had only been released a few weeks previously). On reflection I think we could have played the game most retailers do in sales and simply cherry pick a few key products (many of which were already on half price sale) and slash the price dramatically to get the headline effect. But much of our objective was to increase average order value which a blanket discount offer had previously achieved.
Again we were able to counter this a little with our Cyber Monday email where we hit hard on the messaging to do with additional in-store discounts. The headline read "Did you think our 20% off Black Friday coupon wasn't generous enough?"
In terms of purchases the Cyber Monday email was twice as effective as that of Black Friday but do remember that it may also have served as s useful reminder to those that may still have been waiting to act on the Friday email.
So lessons learned for the future.
Reflections
Responsiveness was crucial throughout the campaign. Sure the ads and organic posts were scheduled but we benefited from me dipping in and tweaking copy, bids and targeting based on what real time results were telling me. I was also learning over the weekend from customer reaction, what other brands were doing and how the algorithm was working – all this informed the content I created for the last big push that was Cyber Monday.
This has also given us a glimpse of the future for promotional posts. Facebook is very much Pay To Play unless you have non promotional content but with a clever use of budget (and for clever read putting in the hours researching, testing and setting up ads) you can get good results on very small budgets.
Comparing what I paid for the third party email list and Facebook ads I'd choose the ads every time. And I will continue to invest in building our own list organically and focus on serving them great quality content, building up trust and permission to occasionally talk to them about products. Pretty much the same way I feel about my Facebook newsfeed.
Marie Page, Co founder, The Digiterati and Senior Consultant
Want to learn more?
Every business is different, and Facebook ads have moved on a lot in the year since Black Friday 2014. We now have Carousel Ads to play with and, The Digiterati at least, has developed a far more sophisticated testing platform.
We're always open to reviewing client campaigns and working together with them to create different approaches. Please get in touch.
This feature, written by The Digiterati co-founder Marie Page, is part of a case study on how a small businesses put together an integrated digital campaign for Black Friday. Click here to visit the report home page.
Next section: Plans for 2015 >
Previous section: < Using Facebook for Black Friday Promotions