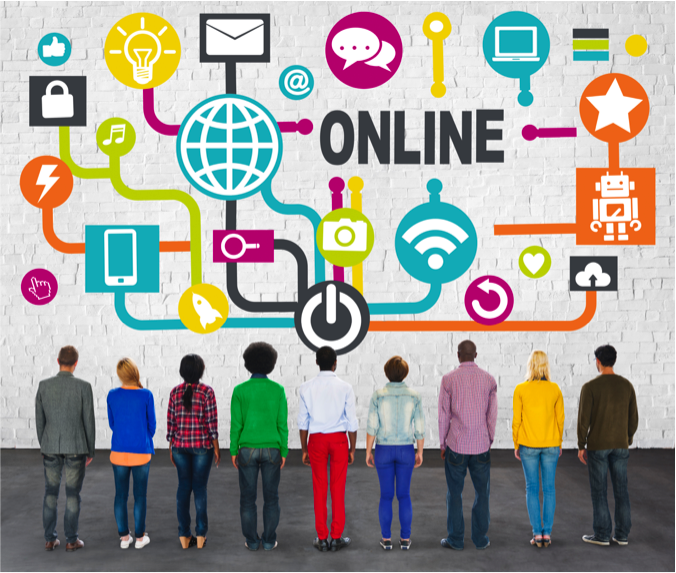 This is part of our full report on how digital technology can be incorporated into Local Authority health and wellness services with the aims to save money, work smarter, increase referrals and help more people locally to improve their health. The report is essential reading for public sector professionals working on any form of marketing communications and digital service delivery within local authority teams and service providers. Click here to visit the report home page.
How to use social media well: communicate with users on platforms and in formats that work for them
54% of UK adults use social media and 82% have an Internet connection. Use of social media by adults over 65 has increased over 50% between 2013 and 2014. PHE guidance on marketing is to "engage the public wherever they are". Some demographics are more likely to be found on Facebook, whereas others prefer Twitter or Instagram.
Digital platforms are conversational in nature, which makes them different to traditional one-way communication tools. PHE criticises traditional advertising for its lack of interactivity stating, "Successful change is often social, interactive and multi-stage. A one-way broadcast model cannot include these crucial factors". This 2-way interaction with audiences has the potential to help improve openness and incorporate user feedback into services in order to improve them.
Studies show that people are increasingly accepting of communication messages in digital format but that they prefer such communications to be on their regular day-to-day platforms (e.g. Facebook, their mobile phones and email) and organisations that try to funnel users through particular platforms not to their liking will see less success.
The power of social media to target (by geography and demographics as well as other more traditional means such as posters and leaflets) is more accurate and cost effective than more traditional means of advertising.
Social channels are a great way to demonstrate the sociable side of activities and services, and alleviate concerns by providing transparency before attendance: this service is obviously used by "people like me".
[Quick jump to sections:   Facebook    Instagram    Twitter    Google+    YouTube    Vine ]
Use of Facebook by wellbeing services
Facebook is the most commonly used social network (96% of people with a social media account use it) and many prefer to find out about service provision there instead of via websites, perceiving the information on Facebook to be more up-to-date. Facebook offers an opportunity for the information to find the potential service user rather than the traditional website which requires the user to actively search for the relevant content. Facebook is also a way of surfacing information regularly to people who would be unlikely to be returning on a daily or weekly basis to a website. Facebook is therefore an important part of most digital marketing strategies.
Facebook can be used to communicate key messages, serve up links to a website or blog, tell stories about service user success, garner enthusiasm for local services as well as playing an important role in engagement and user feedback.
Best practice is to use a variety of content, much of which is curated from elsewhere rather than created from scratch. These could include:
Plain text updates (including questions, quotes, statements)
Links to other websites (wellbeing website, Public Health England, NHS Choices, newspaper articles etc)
Images – perhaps infographics or motivational quotes
Video – ideally Facebook "native" video (video uploaded directly to Facebook enjoys far better reach) where content is owned or links to YouTube clips
Events – invitations to, and information about local roadshows and other relevant events
As usual, content and tone should follow the EAST principles (see page 27) and ideally a number of updates should be provided each week. These same updates can be repurposed on Twitter.
Where most of the local authorities we researched fell down was in using Facebook in ways that would have worked five years ago but are no longer effective. For instance, Facebook has radically throttled organic reach of content in recent years meaning that without promotional budget, only a tiny proportion of fans will see updates.
Similarly it is almost impossible to grow a Page's fan base in 2015 without some advertising budget. So most wellbeing Facebook Pages seem to have only a few hundred fans that would barely justify the resource required creating and managing the content.
Additionally, much of the content created on the Pages we researched was poorly contrived, likely created by untrained staff rather than PR or social media professionals. Whilst it is very simple to set up a Page, creating timely and relevant content, phrased well, with appropriate images is something of a skill. Facebook good practice changes very regularly and failure to respond to these changes can result in poor reach and engagement.
Qualities of a good Facebook Page
We have set up a sample Facebook Page for a client in a similar sector at https://www.facebook.com/londonhousingforstudents to demonstrate good practice both in set-up and optimisation basics but also in terms of content ideas. This includes:
Category choice "Local Business or Place" will allow for a map and reviews/ratings but is not always the appropriate for local authority activity. "Cause/Community" may be more appropriate.
'About' text – 155 characters to capture the "product", its Online Value Proposition (what makes it stand out), where it is and who it is for. Good to include a www here too as the usual URL does not surface on mobile.
Good choice of page name and vanity URL (this can only be changed once and can't be changed once you have over 200 fans) that is as short and descriptive as possible.
A profile photo (probably a logo) sized 180×180 pixels (note how this should be square and ideally a simple bold image without lots of tiny text).
Fully complete "About" information with links to website and contact information:

Start date: use the date that the service began
Impressum – it's ok to ignore this
Long description – put in a more detailed description of the service, who it's for, what it does, how to access it
Official Page – website URL
About video uploaded

Use of Call to Action on home page image (ideally to video otherwise 'Contact Us')
Reviews switched on (i.e. correct category selected)
Tabs ordered appropriately
Multiple Page Admins assigned
Other Page roles assigned
Settings checked and actioned correctly. Default settings should be fine with these exceptions:

With Visitor Posts we suggest you allow anyone to publish to the page but that you turn on post moderation
In tagging allow other people to tag photos posted on the Page
We have populated the sample page with a variety of messages relevant to a target group of overseas student residents that includes both unique and curated content.
Facebook Page cover image
A cover image sized at least 851×315 pixels that works on mobile and desktop without cropping text or images inappropriately (see sample below with the safe areas for text and images on both desktop and mobile marked up). The image can include text such as location and key points. Note that the name of the service will feature on the page name so does not need to be repeated in the image.
Note in the below examples how different areas of the image surface on different sized devices: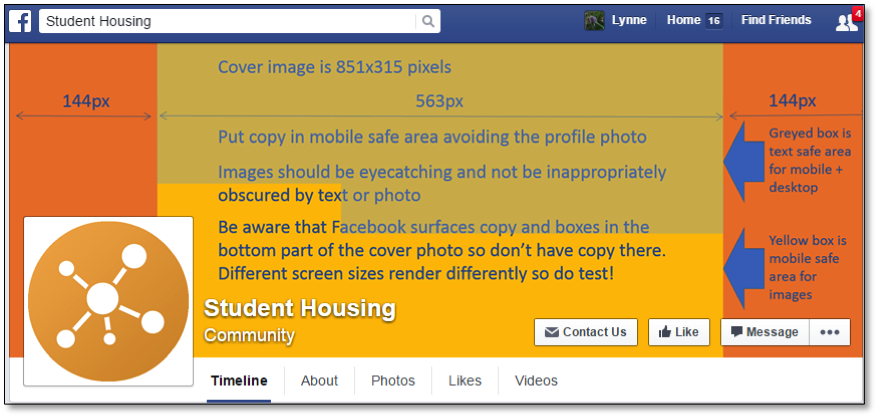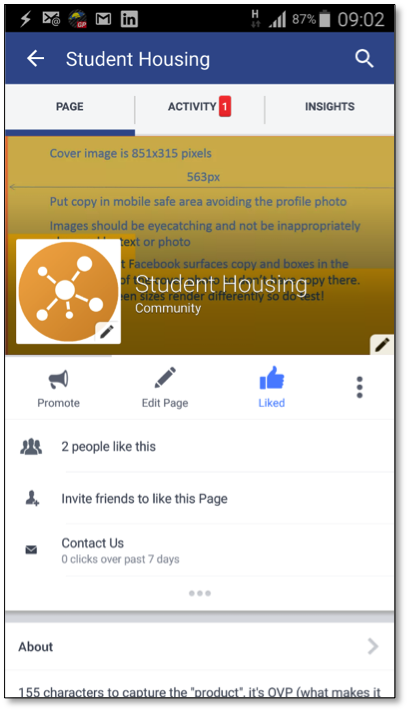 Facebook Groups
Facebook Groups are an effective, but often underutilised function. They provide a way for similarly minded individuals to form an online community in either a public, private or secret forum. Organic reach is less of a challenge in groups as the default setting is for all Group members to be shown content. Participants frequently find themselves "connecting" with other members through mutual support, answering each other's questions and often by sourcing and posting content they themselves find elsewhere. This is the holy grail for social media managers.
Facebook Groups can be particularly effective for services such as smoking cessation, weight management and physical activity services. Groups are particularly participative but may well need a strong facilitative lead at first with the Administrator posting useful content, links, ideas, questions and discussion points. An example of a Migraine Support Group is posted below.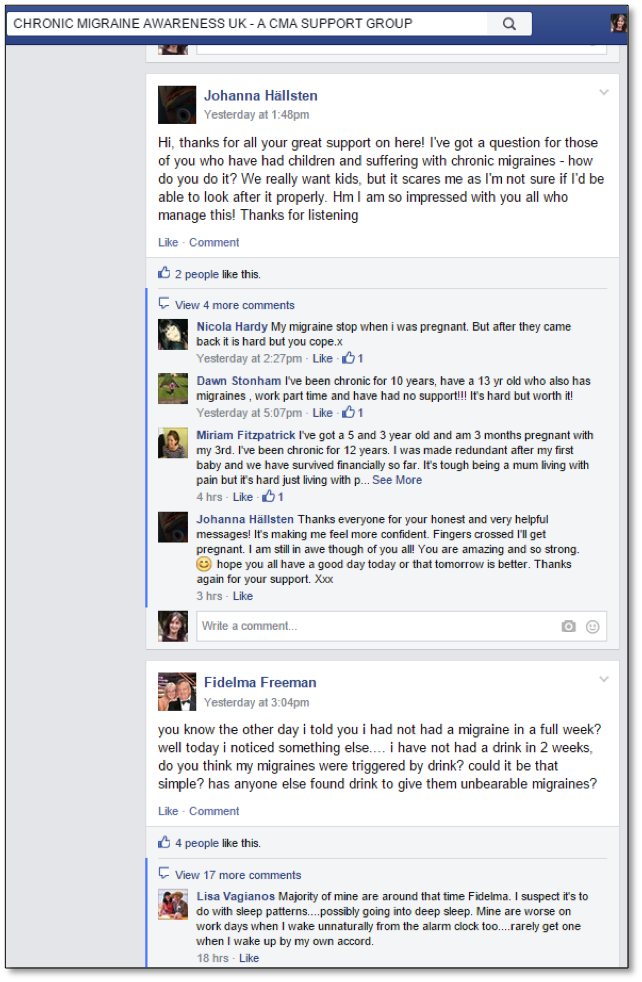 Facebook Advertising
Facebook is essentially a "pay to play" platform nowadays. It is no longer enough to create a Page and wait for people to find it in droves. Similarly, there is no guarantee that fans of the Page will even see the content posted (organic reach is as low as 1-5%). Advertising budget is therefore essential to succeed on the platform (and it is lack of ad budget that is likely to blame for the low fan numbers and engagement levels of the Facebook Pages from all the best practice providers we have researched).
Carefully targeted advertising (to Borough residents, of target age, perhaps with particular interests) should therefore be utilised as follows:
Page-like ads to find new fans for the Page
"Boosted" posts to increase the reach of the Page's content (recommended to boost post to fans and perhaps friends of fans, all within geographic and within target age ranges)
"Sponsored" news feed posts/ads of key content targeted at appropriate groups. For instance, Stoptober content would be promoted to local people who have a registered interest in smoking, Stoptober, cigarettes or other relevant factors
"Custom Audience" ads as follows:

To people on the service provider database
To "Lookalike" audiences of the database (and existing Facebook fans)
To people who have visited the service's website (using website custom audience pixel)
This can be further targeted to people who have visited particular pages
To people who live in the geographic area who have visited the PHE or NHS Choices websites (a tracking pixel will need to be placed on those websites in co-operation with the relevant webmasters)

"Lookalike" audiences can also be made of any of the aboveFor further elaboration, there is a helpful guide to Facebook ad targeting here http://the-digiterati.com/facebook-ad-targeting-overview/
There is a helpful guide to Facebook Custom Audiences here
http://the-digiterati.com/facebook-ad-targeting-part-2-facebook-custom-audiences/
Facebook's targeting potential should also be reflected in the ad creative. So, for example, an image of a man aged 26-35 (key target for smoking cessation), employed in a manual trade should be used when targeting that population.
Use of Instagram by wellbeing services
Instagram is the biggest and most popular photo-sharing platform. For obvious reasons, this channel works best for sharing visual content and short messages. It's popular with a young audience and Instagram can offer the opportunity for good audience engagement and sharing insights into a service or activities. This ability to convey an intimate view of health and wellbeing services could be extremely helpful for overcoming barriers to engagement. For example, showing something of the atmosphere of activities may help reluctant participants overcome any misgivings about joining for the first time.
Darlington run an Instagram account for a youth group called 'The Zone'. This channel is a good choice for this demographic and the account has high engagement – much higher than the same group on Facebook. Darlington have chosen to use this channel to show what goes on at the youth group.
The account is mostly used to share photos of members of the group and this leads to strong engagement with them. It's a good example of how the sociable nature of a group can be portrayed using social media and create a sense of belonging with the activities. Taking and publishing pictures of young people is a risky area and The Zone has recently decided to take their account private. This means followers have to be approved before they can follow the account. This decision means The Zone's Instagram account is of more use for retention than acquisition of new followers.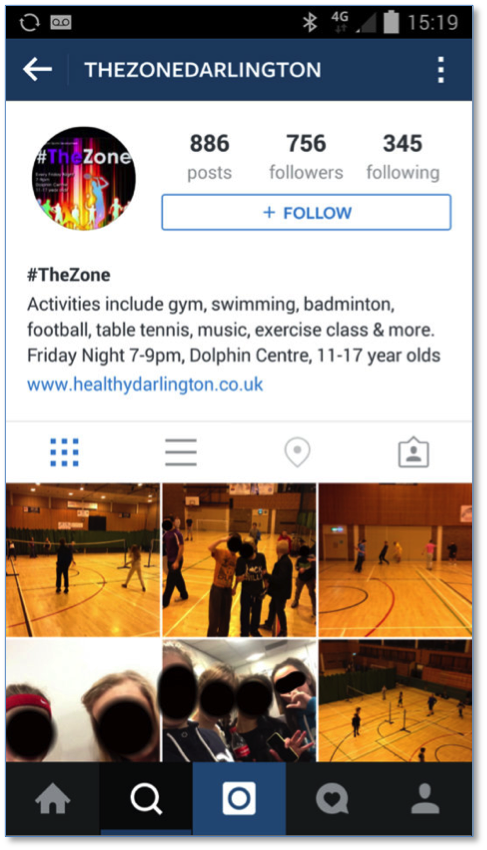 Lancashire County Council have an Instagram account however this is not especially active. LCC found their Instagram feed to be a good place to share shortlisted designs for their new bus garage.
It may have attracted more attention if they had added a greater number of tags to these posts, for example #lancaster and #lancashire are both popular across the channel. People searching on these tags are likely to follow the LCC account, so tagging is a good way to grow followers and expand reach.
It would also be a good idea to add a description to this account in the same way as The Zone describes the activities it offers. An example might be 'Making life better for the people of Lancashire'. It may be appropriate to add a description of the link that is included, which leads to the bus station design competition. People tend to be wary of clicking links online unless they know where they lead.
To really make a success of Instagram it's necessary to generate a lot of visual content. This isn't always within the remit of health and wellbeing services but the high engagement for The Zone suggests this channel can work well for some activity groups that are highly visual. Instagram makes it easy to run photo contests and many brands use it to show satisfied customers. HWS may find Instagram useful to portray normal service users, e.g. successful quitters for the smoking clinic, or weight loss champions. This would be a good channel to highlight positive experiences from existing service users in the hope of encouraging more to take up the services.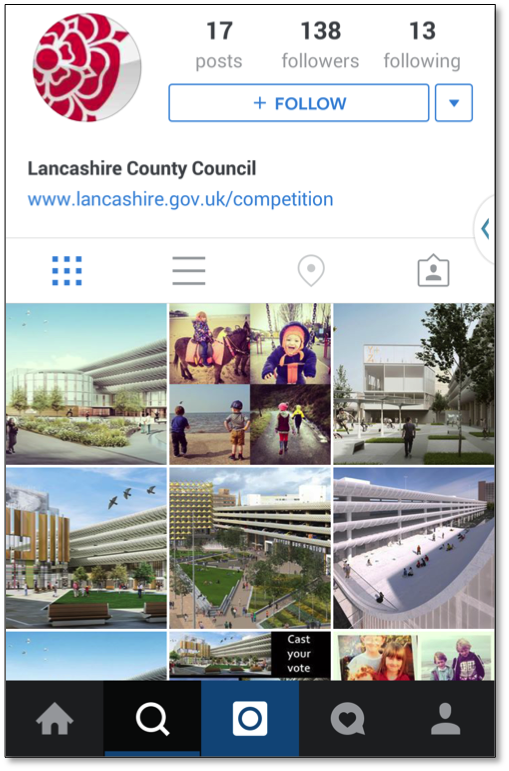 Use of Twitter by wellbeing services
Twitter is a great channel for sharing brief, timely updates. One of the most successful uses of this channel we've seen was when Greater Manchester Police used Twitter to show how much the 999 service was abused. GMP simply posted a summary of every 'emergency' call it received, including many timewasters and crank calls. Other good uses of the platform include information about road closures, events and emergencies such as local fires or floods – all of which are incredibly useful at that point in time to the relevant audience.
For wellbeing service providers, timely updates may include information about changes to service provision (clinic cover over bank holidays etc.), a new member of staff, launch of a new service, sudden availability of places on a new course etc. All this information is timely and relevant to the audience.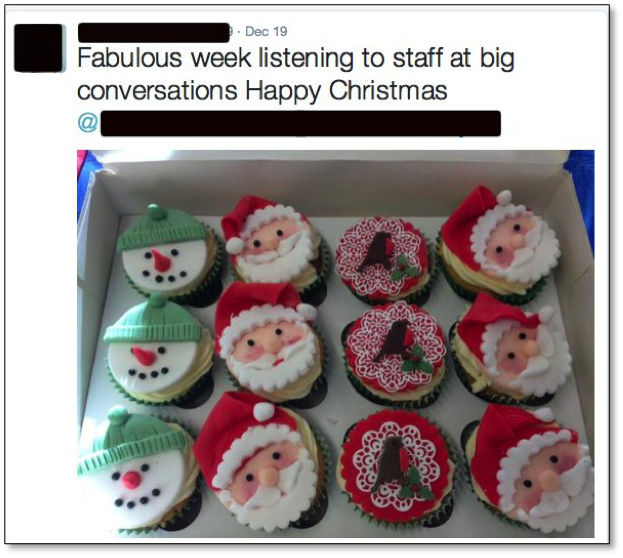 In Birmingham, the council was asked to publish daily pollution levels and pollen counts as their audience found this information valuable.
Some mistakes made by local wellbeing services include: being overly focused on internal team events, failing to offer a human face, using poor quality images that aren't the right size or shape for the cover image, and using the channel to be too hectoring. Shouting out health messages such as 'You should reduce the amount of time you spend sitting down' is unlikely to lead to good audience engagement. A better way to get this message across might be sharing a tip on raising activity levels or showing that other local people have pledged to be more active.
Another issue we have identified is jumbling a lot of messages together in the Twitter feed: gritty sexual health messages alongside advice for the homeless and when the next Zumba class is. This seems to do little besides proving how active the HWS is. It may be more helpful to followers to segment the feed according to their interests in order to be more relevant. HWS should have a clearly defined audience before they begin to Tweet. It's also valuable to identify aligned interest groups, who may be able to amplify the message by sharing it with their own followers. Birmingham found that cycling groups tended to be particularly good partners for sharing relevant content with their own followers.
Use of Google+ by wellbeing services
The future of Google+ has been much debated in recent months but The Digiterati understand that, contrary to media reports, Google+ will survive as a pure social network following a de-coupling from the peripheral components of Photos, Hangouts and YouTube. source: Google This means Google+ should ideally remain as part of a multi-channel social media strategy.

Google My Business (GMB) provides a simpler system for co-ordinating an organisation's presence across the key Google products – search, maps and Google+ – in one place.
Once claimed and verified, the Google+ profiles should be updated with cover images and profile pictures (logos) that match those of other channels such as Facebook and Twitter.
Google+ remains a very good way of surfacing content in organic search engine results because Google indexes all G+ posts in their search engine, unlike Facebook posts which are rarely indexed by Google. Each location should therefore actively post the best content on Google+. This is particularly appropriate for keyword-rich, acquisition-focused content with links back to the service's website.
Other social media examples for health and wellbeing services
There are many other social media platforms and it may be that some are particularly suited to the skills or interests of a local area. For instance, a geographic area with a vibrant group working in video might work on a joint video project that then justifies a YouTube channel.
YouTube
Video is a favoured content medium for many kinds of users and across many channels. YouTube is the most visited social network in the world and the second largest search engine (http://www.smartinsights.com/social-media-marketing/youtube-marketing/biggest-social-network-clue-not-facebook-longer/). It is also the de facto place for many people to go to for how-to advice and tips. Many users will favour video over other kinds of content, so it is important not to ignore video marketing as part of the digital marketing mix for the wellbeing service. Video is also an effective way to connect with an audience and engage with them, or get a point across quickly.
Facebook is increasingly favouring video content in its algorithm, meaning video content tends to have favourable visibility in this channel. In January Facebook announced that it had 3 billion video views per day on the platform. Content such as how-to works well on Facebook – for example short exercise tips, or healthy video recipes. Colourful clothing range Pink Boutique frequently interrupts its stream of clothes-related posts with brief clips of two friends having fun exercising together, or a video of a family being active with a toddler.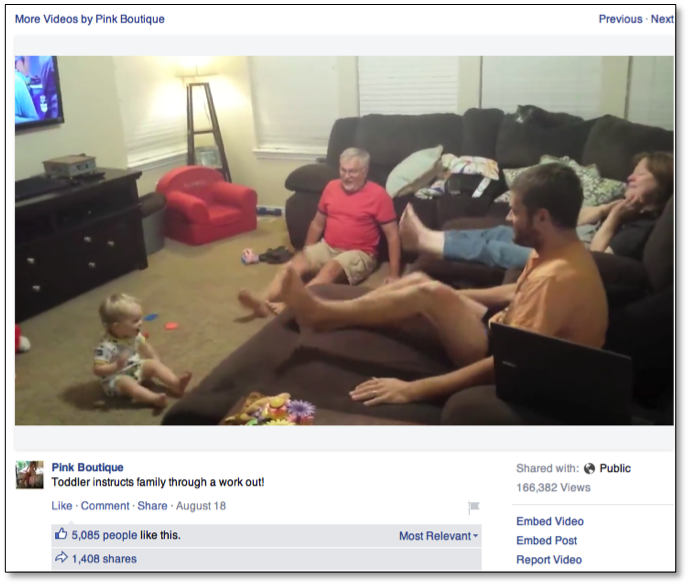 If you are sharing video on Facebook, for optimal reach it is best to do it natively – this means creating video within Facebook or uploading it directly to Facebook, and using auto-play within the News Feed. Videos presented in this way will get more views than YouTube videos embedded or linked to in posts.
Creating video can be a costly and time-consuming activity. Some local authorities have chosen to delegate video content to other people in the community who already have these skills. Livewell Suffolk fully embraced video in its Live Well Suffolk Oscars – a filmmaking project encouraging young people to explore the facts and behaviours around smoking and the tobacco industry, healthy eating and the sugar industry and technology and its effects on daily activity.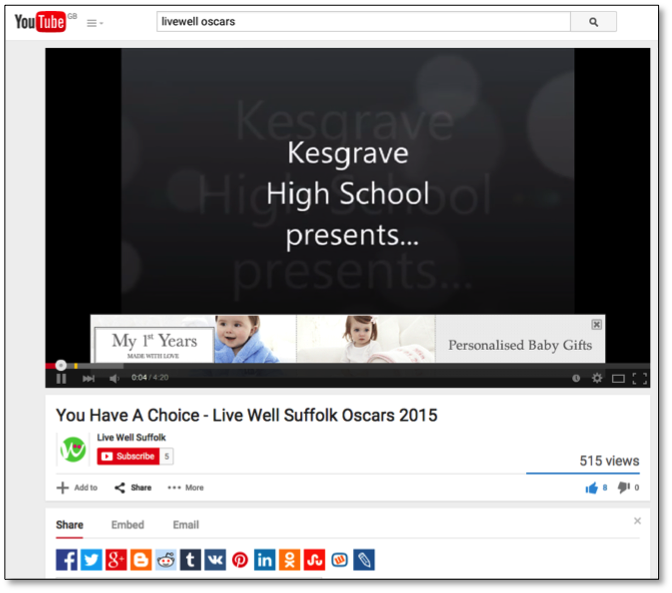 The advantage of getting the community involved in creating video is that it is more likely to be supported and shared than video created by the local authority. To maximise this advocacy effect, it's a good idea to maximise the links to the creators and all the organisations they belong to. If the video is shared on Facebook or Twitter for example, it's worth taking time to mention everyone that has worked on the project using their Twitter handle or Facebook name. Also make sure their school or business is referenced as they are then likely to share it with their own followers, boosting reach.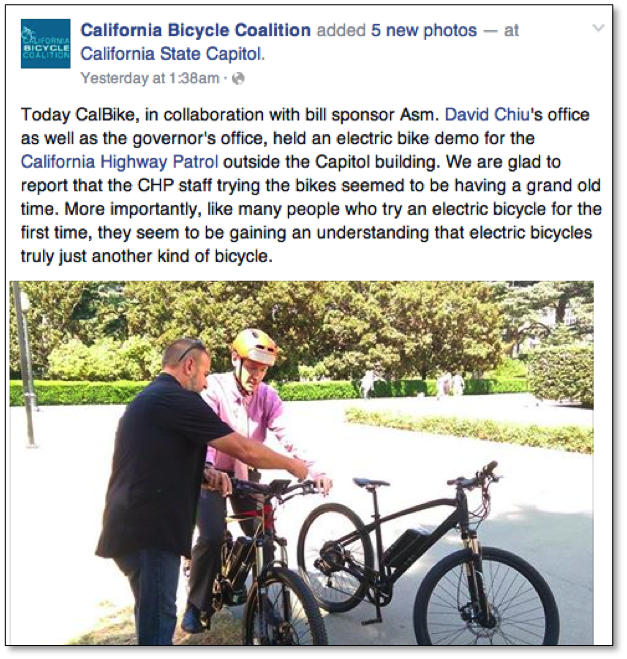 In the example above from a cycling campaign group, the Facebook post references both the location (California State Capitol) and related organisation (California Highway Patrol) as well as a local politician (David Chiu), all of which have their own profile on Facebook and may be expected to amplify this message by sharing it with their own followers. If you can reference existing profiles in a post, the profile owners will be notified automatically.
Video doesn't need to be very long. 2 or 3 minutes is best.
Vine
Vines are 6 second looping videos that are filmed using the Vine app. It's a relatively easy way to create video simply without high investment. The emphasis is on being creative rather than slick, so production values don't need to be terribly high. For a creative wellbeing service team, Vine could be a good way to experiment with video without high investment and using just a smartphone.
During our research, we identified a suitable use for Vine: showcasing what to expect from an exercise class. Darlington identified that many of their service users weren't aware of what a spinning class was, and when we spoke to them the team was considering shooting video that would explain some of their exercise classes. Vine would be a good way to offer a very snappy insight into each class and the app would offer a straightforward way to approach video creation.
This is part of our full report on how digital technology can be incorporated into Local Authority health and wellness services with the aims to save money, work smarter, increase referrals and help more people locally to improve their health. The report is essential reading for public sector professionals working on any form of marketing communications and digital service delivery within local authority teams and service providers. Click here to visit the report home page.
Next section
Other digital approaches >
Previous section
< Use of digital in wellbeing services