I (Marie) worked with the team from We Make Awesome Sh a few weeks ago for an outdoor music event. Whilst I was working on social media, the Awesome Sh team were busy building the "AwesomeWall". So much more than a bunch of hashtagged word-based tweets, the wall surfaced images from Twitter, Facebook and Instagram were uploaded and hashtagged throughout the event. To my mind this marks another step change in tools for live user engagement for brands.
I asked the team to do us a little guest blog about the story behind the technology:
It all started with a Lolcats hack
AwesomeWall was born from the internet's love of cats. It started as a quick hack from the We Make Awesome Sh (WMAS) team back in 2011. Seizing on tech opportunities as they offer themselves up, right after the release of the Instagram API, they built Instac.at. It had just one purpose: to display a comical feed of live cat images on Instagram.
The internet went mad for it with over 25,000 uniques visits in the first 24 hours. It led the team to wonder what else the internet might go mad for so they developed Search Instagram, a tool which allows users to search for any hashtag and display those Instagram images on a webpage. With over 4,000,000 unique users, searching for 70,000 different hashtags, it was time to transform this from a fun way to waste away the hours searching for cats, spice girls and goats on the interwebs to a useful social media tool for marketers.
From the small to the big screen
In the Summer or 2012, Intel got in touch. They wanted to use Search Instagram on a big screen at Outsidelands Festival in San Francisco. WMAS created a massive wall with a simple feed showing instagram images tagged with #inteloutside. This was the very first AwesomeWall (then known as instawall).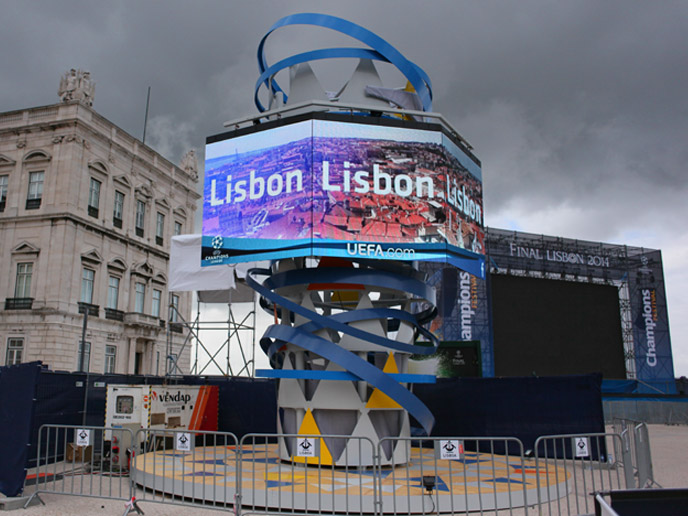 Facebook loved the idea and, after giving WMAS access to their firehose, commissioned a bespoke feed for the UEFA Champions League Final. Facebook built a three storey high statue with a giant screen in the centre of Lisbon to display all the social chatter around the game. WMAS used Facebook data and proprietary software to ascertain which team had the most support and AwesomeWall displayed the favourite team of the moment, messages of support, photos, videos, the time and weather.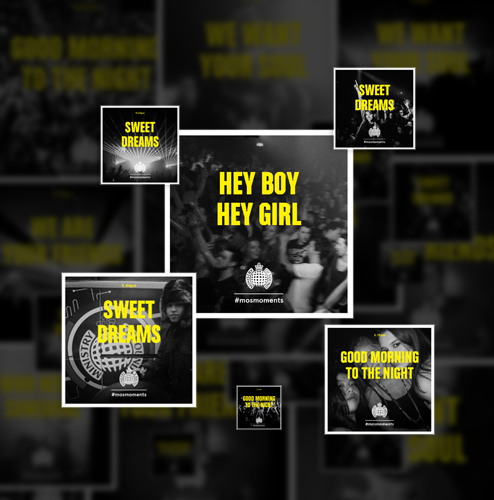 The Ministry of Sound also got in on the act with a custom built AwesomeWall: clubbers were encouraged to post their #mosmoments pictures on Twitter. WMAS created a system which would automatically Tweet them back their picture with a popular lyric overlaid. The Ministry of Sound then used the standard AwesomeWall to display these posters at the club.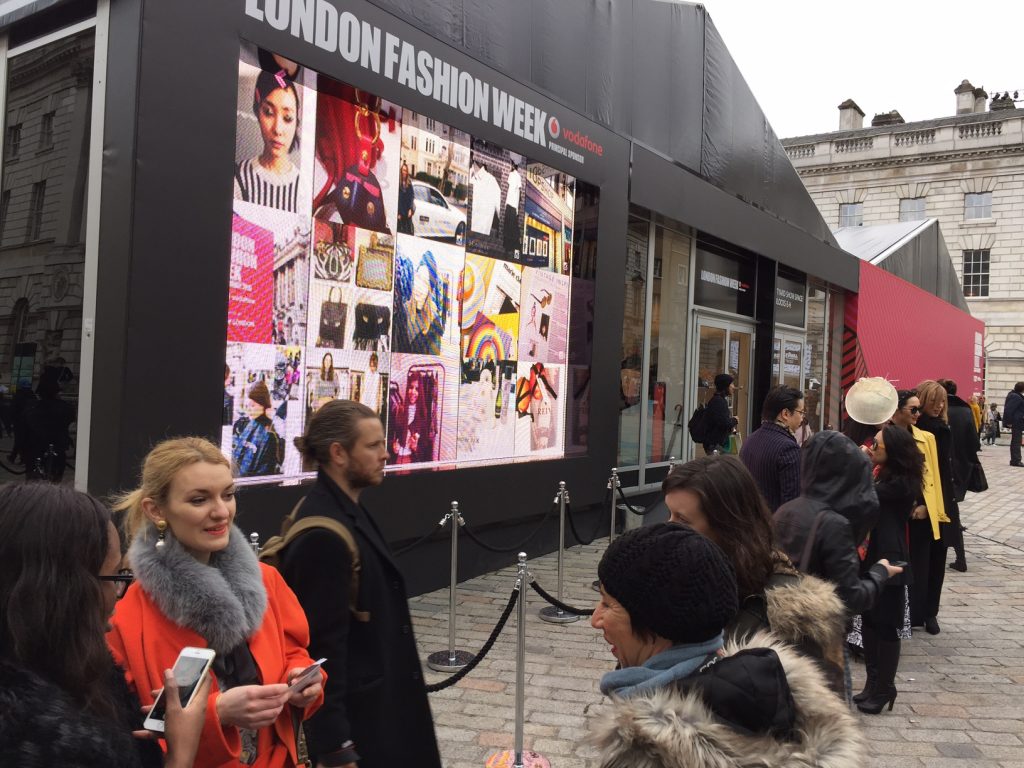 AwesomeWall strutted its stuff at London Fashion Week when the British Fashion Council asked for a social media feed to display any posts from a whitelist of users which allowed attendees and passers by to gain a sneak peak of the backstage area, the celebrities and the latest fashions.
Other examples include Exeter University who embedded AwesomeWall into their site for their #Grandchallenges week to show the goings on around campus; Adidas used AwesomeWall as a fun way to encourage attendees and influencers at their product launch to post about the event on social networks; and to win tickets to the Bacardi Triangle event, fans had to post using a specific hashtag, AwesomeWall collated the posts and displayed them on the Calvin Harris website.
DIY AwesomeWalls
AwesomeWalls have continued to develop with the creation of a self-service system with a super easy to use platform for customers to create and moderate their own AwesomeWall. Brands simply sign up on the site, choose a hashtag(s), pick the social networks, change the colours and layout to fit company branding and away you go. AwesomeWall can be displayed on a big screen or embedded to a website.
The really simple moderation system allows brand managers to approve posts at the touch of a button. It is easy to moderate on a smartphone whilst you're out and about at the event; with no need to be holed up in an office behind a computer.
So what started as a fun way to search for cats on Instagram has become the de facto way to get fans involved at events and to get people talking about your brand. Nice one cats!
Comments