360 photos, the new content hack…Facebook's 20% ad text rule…Microsoft's plans for LinkedIn….the magically disappearing (and reappearing) Like trick that teaches us a valuable lesson…PLUS Carlton has a word with Gary Vaynerchuk.
The 10 most important things you need to know this week from the world of digital and social marketing.
Taking the Pulse is your weekly live show examining the breaking digital and social media marketing news of the week along with our own unique insight and advice.
We condense hours of research into a ~20 minute show, companion blog post (and soon podcast) that keeps you fully up-to-date with the issues that matter to your business marketing.
This week's show is written by Carlton Jefferis and presented live on Facebook along with Marie Page and our live audience at the University of Portsmouth Business School.
This is the show's companion blog post. A replay of the show is available right here on this blog post shortly after the live broadcast ends or over on our Facebook Page. The replays are also available on our YouTube channel.
The show's hashtag is #TTPshow
---
Facebook
20% ad text rule officially scrapped, but why it still matters
My colleague Marie wrote about Facebook's testing a relaxation of the 20% ad text rule back in April. It's now official. But before you leap for joy thinking of all those juicy calls-to-action you can cram into a 1200 x 638 pixel image, stop right there. Facebook have indeed relaxed the rule (in fact they've scrapped it altogether) but instead they've developed 4 categories of ad image text, detailed below. The bottom line: if you want your ad to actually reach your audience for the lowest possible cost (and who in their right mind wouldn't?) you still need to pay very close attention to the amount of text.


The magically disappearing (and reappearing) Like trick
For the last few years Marie has taught her Facebook marketing students how to exploit a little-known trick for generating Page Likes from viral (or paid) Page Posts. She recently recorded a free training video which is well worth a look (and also this follow-on video for ads). But beware! This week Marie nearly had kittens when she discovered Facebook had axed the option to use this trick, but fortunately everything returned to normal a few days later. This serves to remind each and every Facebook marketer of the danger of building your business solely on the rented ground that is Facebook. Here's the first in Marie's series of videos on how to utilise this technique:
360 photos – the next content hack?
Last Thursday Mark Zuckerberg announced the worldwide availability of 360 photos on Facebook, both on desktop and mobile. These clever – and pretty cool – images can be scrolled around with your mouse and move as you tilt your mobile device. Better still, you don't need an actual 360 camera to get some benefit from this feature as you can directly upload panoramic photos taken with an iOS or Android device and they will automatically become scrollable 360-style images. Facebook provide some brief details here, but there is also some very helpful information here from Dutch blogger Steven van de Staak who walks you step-by-step through manually creating 360 images ready for upload. Here's my post, below, from earlier in the week…I'm still thinking of ideas of how to use this!
New ad types for bricks-and-mortar retailers
Facebook yesterday introduced 3 new types of ad products for physical retailers:

The first enables you to include a store locator, opening hours and directions to your store right within the ad, and is available now.
The second provides insights on footfall generated by the ad. This ad produces an estimated metric using information on the location of a user (if they have enabled location services). It's being rolled-out worldwide over the coming months.
The third, only within the reach of the largest advertisers, tracks actual conversions (sales) resulting from the ad via an integration with the Ads API.
Comment with a video
If you feel you've read this somewhere previously, you're not wrong. When the video comments feature was initially released (possibly as a gradual roll-out) it was broken, but now it's fixed (apparently). Great for a personal touch. Leave me a comment and I'll reply with a personal video just for you (if it works!).
Facebook Pages design overhaul
Several sources have reported a fresh new layout design for Facebook Pages which does indeed appear to be rolling out slowly. We seem to have it within the mobile app but not yet for desktop. This will make your designer's life a lot less stressful as the new design utilises the fill cover image design with no nasty overplayed elements. It also includes a very prominent call-to-action button. We'll keep you posted.

Media companies Reach drops 42% during 2016
SocialFlow – a social content distribution company – analysed 3,000 of their media publishing customers' Facebook Pages and detected a worrying decline in Reach per Post over the course of 2016. Once a sure-fire way of getting a Reach boost, it appears the Media/News/Publishing category is now suffering a steep decline in average Reach.



The SocialFlow team produced an enlightening video discussing their findings, well worth a watch, and they mention some follow-up research which we'll keep an eye on:
---
 LinkedIn
Microsoft buys LinkedIn
You probably heard that Microsoft announced a deal to acquire LinkedIn for over $26 billion, but what does this mean for LinkedIn users and advertisers? Or Office users for that matter? TechCrunch did a good job digging into the details which can be summarised as follows:

433 million users' LinkedIn data + 1.2 billion users' Office data = Very valuable professional users' data! Expect a wealth of new advertising and targeting options, which probably won't come cheap.
Integration of LinkedIn features within native Office apps.
LinkedIn news feed influenced by the projects you're working on in Office.
Direct help from LinkedIn professionals within Office, and training courses from Lynda.com (owned by LinkedIn) offered within Office.
My view: this is a transitional moment in the professional network market. Some people might feel uneasy about the availability of their professional data within the Office environment. Microsoft will need to reassure LinkedIn users on privacy and data control issues to avoid a backlash.
---
Messenger
SMS integration comes (back) to Android
Messenger's relentless push for world domination continues with a new release for Android which now incorporates SMS messages directly within the native Messenger app. Full details here. I think we're edging one step closer to the Universal Messaging Inbox I predicted only 2 weeks ago in the Messenger segment of TTP Episode 6. What do you think?
---
Facebook Live
#LiveButNotLive
Ever since Facebook launched Facebook Live video we've been staunch supporters here at The Digiterati. The immediacy, the authenticity and frankly the simplicity of being able to go Live anytime, anyplace, anywhere makes it a winning format for individuals, SMEs and SMBs, and large brands alike. We've seen people like Candace Payne (aka Chewbacca Lady) shoot to stardom. Small brands such as artist Gillian Arnold showcase her beautiful products and canvass the opinion of her audience. And large brands like Dunkin' Donuts get closer to their fans and customers with a Valentine's Day tour of their test kitchen. Facebook Live is simply great, and it still wears the crown for King of Reach on Facebook.However, a tiny number of clever-dicks are doing their utmost to ruin the Facebook Live experience and opportunity for everyone, and none more so than all-round clever-dick Mr Gary Vaynerchuk, of whom I'm generally a massive fan. Gary has recently taken to exploiting the Facebook Live API to go "live" using pre-recorded episodes of his #AskGaryVee and DailyVee shows. Live, but not live at all. They're the same highly-polished, post-produced pre-recorded videos he uploads to YouTube a day prior to these fake #LiveButNotLive broadcasts on Facebook. He claims he's testing (although just how many tests do you need to do, Gary?) and pretty much all his fanboys and girls leap to his defence (or should that be defense?) the moment he receives the merest criticism for his actions:



He does this #LiveButNotLive trick via the Live API (most likely via a third party tool such as Telestream Wirecast) which Facebook developed to enable TV studios to use existing equipment to broadcast high quality live shows directly into Facebook Live. Some people are calling this behaviour "strategy". I don't see any strategy here whatsoever, it's just tactics. It's also fake, cheating, irresponsible and plain selfish.

I call bullshit on this, Gary. Here's why…

Fake
When Mark Zuckerberg created Facebook Live he did it because of his personal quest – and Facebook's mission – to make the world more open and connected. He wanted people to share what's going on around them, tell their authentic story, break news, entertain, call-up astronauts. Live and in realtime. I don't recall Mark ever suggesting live-streaming pre-recorded video during his F8 keynote announcement of the Live API. You're acting like a fake, Gary.

Cheating
When something says it's Live do you expect it to be pre-recorded? No, of course not. If you bought tickets to watch your beloved NY Jets and then sat through a replay of the game, would you be pissed? Yes! [Note: come to think of it, most Jets games probably feel like you ARE watching a replay. Or Groundhog Day. #TruthHurts]

Now at this point you might argue that you're paying to watch the Jets whereas your #LiveButNotLive content is free. True. But your viewers are paying to watch your videos. With their time and attention and that's way more valuable (as you continually point out). So show our attention some respect, and cut the cheating. Facebook provides a place for you to stick your pre-recorded videos, and has done so for years. It's called Facebook Video. If you want extra eyeballs, pay for it like everyone else. Or of course there's still YouTube.

Irresponsible
You're a blue-tick verified Public Figure on Facebook, Gary. With that comes a certain level of responsibility to use Facebook the way it is intended. Blue-tick Public Figures were the first to get their hands on Facebook Live via the Mentions app last year. We all wanted to get our hands on it, but the Little Guys would have to wait while you – the Public Figures – were granted a head-start on all the small businesses and micropreneurs. Those same folk you continually coach, advise and preach through your (otherwise excellent) free content.

You, Gary, received privileges such as the Live Notifications to your fans and followers by default, growing your Live audience from the get-go. The Little Guys didn't. In fact their fans and followers barely get notified of their Live broadcasts unless they make a point of opting-in to Get Notifications (or pay to boost the Live video replay). Even to this day, when someone Likes the Page of a blue-tick verified Public Figure (or any blue-tick verified Page) they are automatically opted-in to Get Notifications for Facebook Live videos. Not so the Little Guys. Act responsibly, Gary, and play by the rules.

Selfish
If Facebook tighten the rules on Facebook Live because of the actions of the selfish minority like you, abusing the Live API, who loses out the most? You with your 856,000+ Facebook fans or the Little Guys who are hustling the crap out of growing their 200 fans and email list and trying to earn a buck through Facebook Live?

Let's face it, it doesn't really affect you big-time if your #LiveButNotLive videos get taken down. But how about if someone copies your actions (which they do, frequently) and gets penalised by Facebook? How good are you then?

Sure, Facebook Live won't be as great for organic reach forever. Facebook already reduced the organic reach recently and surely will do the same again once it's become part of every marketer's arsenal.

You said Marketers Ruin Everything, Gary. But with Facebook Live you're just one marketer who's ruining it for everyone, including yourself.
You're but one step away from becoming another Groupon…"delete, spam, get the f%ck outta my inbox"
Stop it.
---
My crying-with-laughter emoji award this week goes to…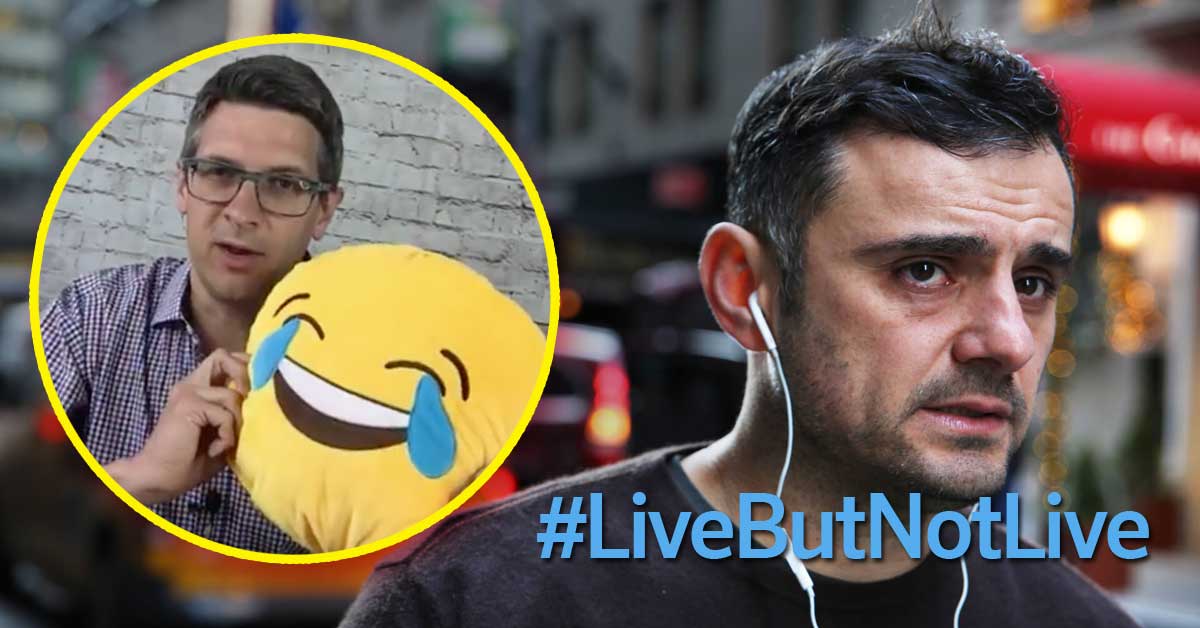 I'm crying with laughter at this, Gary, and so for your Facebook #LiveButNotLive 'tests' I'm awarding you my Crying-with-Laughter Emoji Award this week.
Love you,
Carlton
P.S. You could be violating Facebook ToS by including bumpers at the beginning and/or end of your #LiveButNotLive videos that you're pushing via the Live API. Might be a good idea to read the fine print.
---
Missed the previous Taking the Pulse?
Where the heck were you?! Don't worry – go check out our last show here. And don't forget to subscribe to receive notifications of all new episodes in case you can't catch it live on Facebook.
[embed_popupally_pro popup_id="6″]
Comments