I am increasingly working with clients nowadays that chime with causes and activities I personally love to do. So we have a lot of vegan clients and are delighted to work with Portuguese yoga retreat Vale de Moses (VdM) to improve their website, and in particular it's performance in Google search where it had previously been virtually invisible.
Non tech savvy clients and the importance of incognito search
Vale de Moses had an ancient site that ticked lots of SEO red flags – it was not mobile friendly, used outdated code, was slow to load, had a tricky navigation system and a booking system that was hard to use.
Having visited the retreat on holiday I knew how wonderful the 'product' was and was hugely aware of the degree to which the website was hindering their marketing efforts. The team had invested in a successful PR programme the previous year that had resulted in numerous glowing articles in magazines and newspapers. It had begun to get some serious listings on "Best Yoga Retreat" directories but Google simply didn't want to know. The team were blissfully ignorant of this fact as they had not been searching using an incognito browser. To their understanding they were popping up on page one all the time! However, the only page one search I found using an incognito browser was for their brand name.
This is a big problem for so many small businesses. Websites that looked great five years ago are now dated to the user, and shunned by Google, particularly if the site has not kept up with SEO best practise.
You can see the old VdM site using the Way Back Machine. Talking to guests at the retreat it was clear that many had booked despite the website and lack of Google visibility. They'd somehow tracked it down and the photos told their own story of the uniqueness of the retreat. A series of impressive 5 star reviews on Trip Advisor reassured potential guests of the quality of the accommodation and yoga experience and this likely drove a fair amount of traffic to the site too.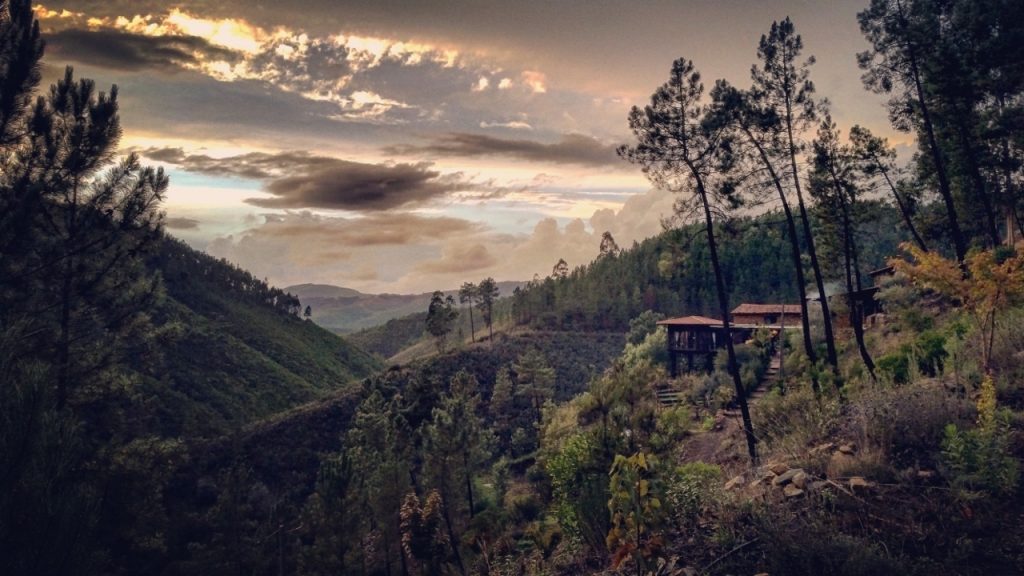 A new website
When I got involved, the VdM team were well on the way to completing a new website with a web designer with lots of experience in the yoga sector. The designer was working in Squarespace, something I was initially quite cautious about from an SEO perspective. But the site was looking beautiful and was syncing nicely with a new booking system.
My remit was not to be involved with the website design but to instead feed into the site from an SEO and content perspective.
The designer was doing a great job within the chosen Squarespace theme. The site was looking beautiful but definitely needed some SEO input. On first glance I found multiple H1s (title tags) on each page, missing meta data and non keyword-friendly page titles. Main navigation space was given to less-than-essential pages and the footer was minimal.
Website audit
My first job was to look at how Google was indexing the existing site. Using SEMRush I was appalled to find that other than a brand name search, the site was simply not appearing on the first page for any relevant keyword search. In fact it was about the 700th most popular site for the keyword phrase we had decided to really go after "Yoga retreat Portugal".
So we had our work cut out for us.
I spent many hours in Google Analytics, in Google Search Console and SEMRush getting a picture of what we currently had (to preserve the good) and identify the opportunities ahead.
I also like to take a deep dive into understanding the customer audience. Having previously taken a retreat at VdM I was halfway there but I needed to better understand what potential customers were looking for on the website, what their fears were about booking a retreat (and think about ways we could counter that),
The SEO process
My standard approach with SEO is to firstly look at what keyphrases are performing well already (and which pages are being shown for them). These pages can then be improved (using things like better use of meta data, title tags, H1, H2, Alt tags etc). Given the site was doing so badly this exercise was somewhat fruitless, but we did put redirects in to each page to ensure that future searches would deliver a relevant result on the new website rather than a 301 error.
I then spent a significant amount of time working through possible keywords and key phrases. These were prioritised according to relevance to the VdM offer, search volume (how popular the key word is) and competition. I looked at the sites that were the top of the rankings to see what chance we had of competing with them (a good way to gauge this is by looking at their Domain Authority). GThe VdM Domain Authority was 35, due in part to the large number of quality incoming links (over 4,000 from 125 domains). Whilst the travel sector is often pretty good at SEO (and pays a lot for Google PPC ads), once you niche down to something like an individual hotel or specialist area (such as yoga), there are plenty of opportunities to be had for an SEO savvy website.
Taking our short list of key phrases I then matched these with relevant sections of the website. Using a spreadsheet that became our keyword Bible we associated one key phrase to each page and made a list of key phrase synonyms that would be used for the meta data (H1, H2, alt tags, title tags etc). Once the content of each page was written I then wrote the title tags and meta descriptions. Whilst Google doesn't use meta descriptions as an SEO tool, they have an essential role to play in convincing real humans to click through. A well written meta description can earn a link even when the SERP is not at the top of the page.
This all fed into the overall navigation of the site – creating a logical flow for users and working that SEO research as hard as we could. Less important key phrases were listed for future blog content.
You can learn everything about my SEO process in my new course on Search Engine Optimisation.
SEO factors beyond meta data
With Squarespace you have little control over factors such as server performance but that doesn't mean that you can't improve site speed. All images were optimised for size – overly large images slow down page load times. We also removed the home page video which was responsible for some speed issues.
I drilled into the team the importance of uploading images with file names associated with the relevant keyword to each page.
Quality and quantity of incoming links is so crucial to how Google treats a site so the VdM team have been encouraged to track down more links, especially from the mainstream media that had reviewed them in the past. The wider VdM team of therapists and visiting yoga teachers all have websites of their own. These sites may not have great domain authority but they are highly relevant to topics such as yoga, specialist massage treatment and lifestyle. Google will note these and reward the VdM website accordingly.
We also made a big push on reviews. The team had previously prioritised TripAdvisor and pretty much neglected their Google My Business listing. This was therefore upgraded with some new content and departing guests encouraged by email to leave a review on both platforms. Google likes reviews on Google (no surprise there) and humans are pretty influenced by a large number of 5 stars standing out in the results pages too.
Remember that whilst Trip Advisor is great for very specific searches (vegan restaurant in Lisbon for instance), it isn't necessarily the place you first turn to when searching for something broader (yoga retreat in Portugal). For that you would be more likely to use Google and then look up the individual results on Trip Advisor as part of your shortlisting process.
The travel industry is awash with directories so getting listings and citations in these will be an important job for the VdM team in the coming months. I don't recommend paying for listings but investing a couple of days getting citations on relevant local and travel directories will pay dividends.
You'll be aware that Google does not just deliver up a long list of standard SERPs nowadays. Instead it shows "blended results" incorporating YouTube videos, images, news, local results, blog posts and more. Featured snippets are also abundant. These might quickly answer a question and may take the form of a paragraph, a table or a bulleted list. As the VdM website evolves the SEO research must continue. We will look to deliver content appropriate to these result formats.
We will also need to look at AMP (accelerated mobile pages) and Schema (mark-up that will enable reviews and more to surface in the SERPs).
Once the initial website launched my focus then switched to content creation. I went back to the Portuguese mountains and immersed myself in a week of yoga and content creation. Spending 24 hours a day with 16 other customers was hugely informative. It also gave me the opportunity to talk to the yoga teachers, therapists and other staff. As they told their stories content ideas began to flow.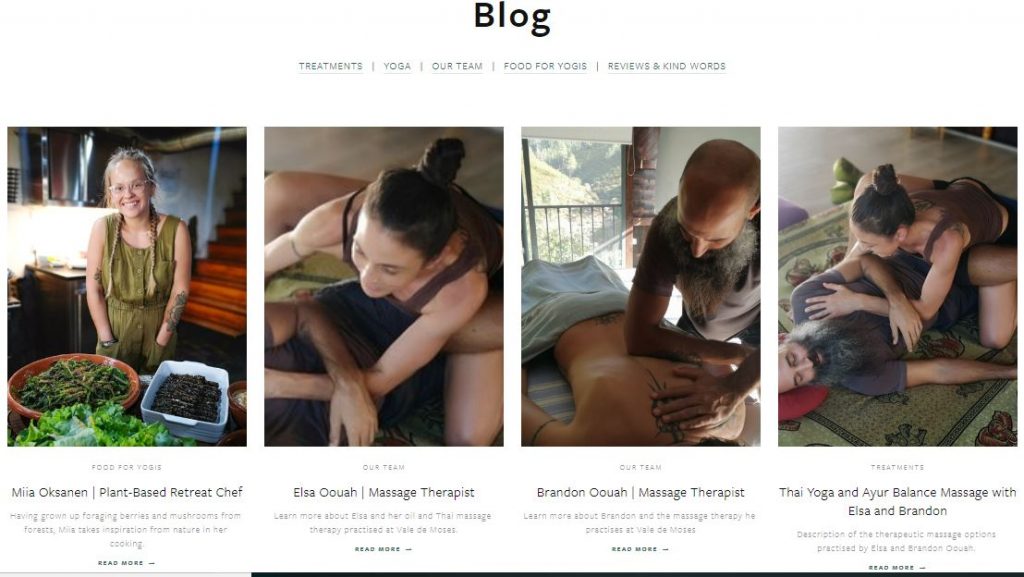 I took hundreds of photos, wrote blog post after blog post, interviewed staff and repeated their stories on the website. I listened to the concerns of the customers – what they had feared before they had arrived and crafted content to address those fears.
From all this a wider post-launch strategy for SEO-rich content has emerged. I've modelled the creation of that content in new web pages and blog posts. The team are now well equipped to continue the good work.
Our aim is first page of Google for all our top key phrases within the next six months. I'm also reckoning on a big upsurge in online bookings (which will help pay for all that investment).
The importance of identifying your brand USP
One of the exercises I try to do with most of my clients (whether website or social media) is to nail down a USP phrase. This needs to identify what the organisation does, who it does it for and how it does it better than others. It is a task that can take many hours of thinking, chewing and reflecting to find those succinct words that will then form the backbone of so much of your marketing.
The USP is not the tag or strap line but a descriptive phrase.
The USP we have for The Digiterati is as follows:
The Digiterati is a collective of kickass digital and social media marketing professionals passionate about working with local businesses and specialist agencies to build their expertise.

We use online learning, in-person training and consultancy to improve use of digital tools and techniques to deliver awesome visibility and cost-effective results.
You'll find elements of that phrase all over our website and social media about info. It forms the basis of the meta description on our home page and provides the focus for the copy there too. It is also implied in our use of photos, videos, social media posts. It also sets the tone of our corporate culture and who we are as individuals.
The USP we came up with for Vale de Moses is as follows:
Vale de Moses is a yoga retreat set in the tranquil pine forests and mountains of Portugal providing restorative yoga, massage, nourishing vegan and vegetarian food, forest bathing, woodland walks, wild swimming, relaxation and deep sleep.
There are always ways to improve these phrases. Ideally I like to workshop them for several hours with the client team. In the case of VdM, they were in Portugal and I was in the UK so I worked from their Google AdWords copy and other ads and listings info they had devised over the years.
I would critique the VdM USP in that it doesn't reference the "Who we do this for". We'll get there with that element at some point soon.
SEO or social media?
I think SEO has often been neglected by small businesses because a) it seems too hard and technical and b) surely if you build it they will come flocking to your website on its own merits. The third reason for neglect is our obsession with social media. The team at Vale de Moses had spent many hours cultivating an Instagram presence, and sure, this will have played a part in bringing in some bookings. But in travel, as with many industries, potential customers are in active search mode. For that they are using Google, rather than faffing around on Facebook and Instagram where you are really only likely to stumble over something relevant by accident unless the brand is paying for targeted reach.
I'd suggest that for many small businesses the priority for investment (of time and money) should be:
Search Engine Optimisation
Pay Per Click ads
Social Media (paid and organic)
For Vale de Moses their Instagram presence is a reassuring and inspiring one for potential customers who were checking them out by digging a bit deeper than simply looking at the website. It is also a good place to casually interact with past guests (repeat bookings are very high for VdM). But Instagram alone (especially without ad support) was never going to have the impact a thought through SEO strategy would have.
The use of a deep footer
One of the changes I made to the new site was to introduce a deep footer. This has the effect of sitewide links at the bottom of every page. It's not the place you want outgoing links (although a credit to the developer is common). But it is the place to put links to your T&Cs, privacy policy, your most important pages, contact info, map, simple About text, social media links, testimonials and a data capture form.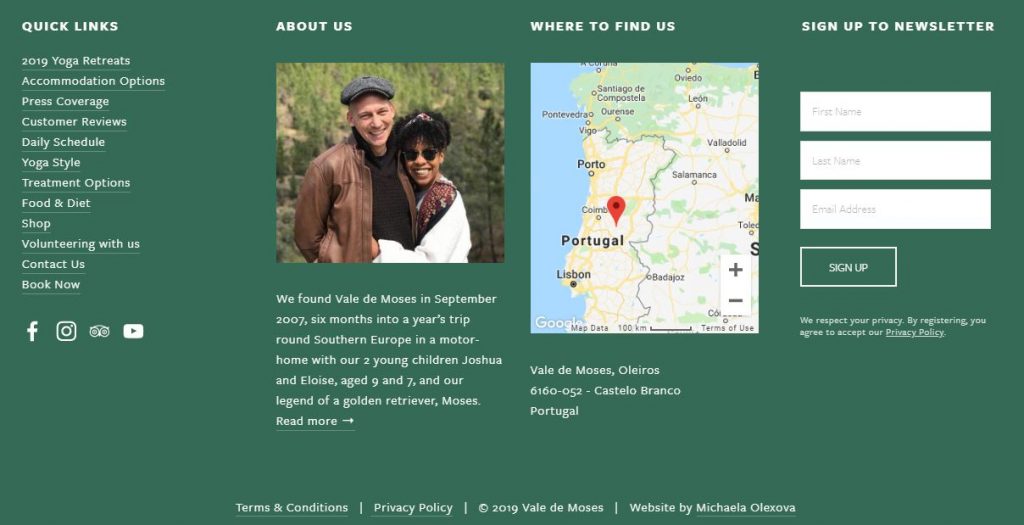 You can discover a lot about Vale de Moses from it's footer. Again it is a work in progress and will be improved over time. The site was put together on a very tight budget and it is better done than perfect.
Early results
Three months after the initial week of work and the main keyphrase we were aiming for 'Yoga retreat Portugal' was delivering us the number one spot. We also got #1 on 'Yoga Portugal' and 'Yoga retreat Portugal mountains'.
You can see the results below. Still plenty to do but this is huge progress from a starting point of zero visibility.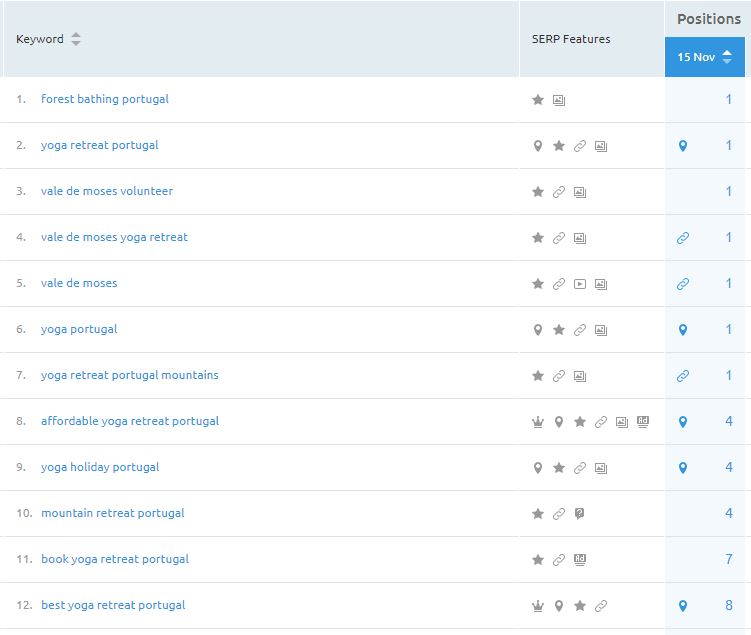 Do SEO yourself
You can learn everything about how to do SEO yourself (even if you are not a technical marketer) in my new course on Search Engine Optimisation.

Comments