With the Coronavirus crisis many local teaching businesses such as yoga, Pilates and even after-school maths tuition are facing dwindling student numbers and the threat of closure. This week we have been working with lots of local teachers even those who run local choirs to help them keep their classes and rehearsals running.
Business models that rely on face-to-face interaction with customers are most at risk.
Up and down the country offices are closing and asking staff to work from home using technologies such as video conferencing to enable work to continue almost as usual. In Italy, which has imposed a nationwide quarantine, peak internet traffic is up 30%. Broadband providers are asking computer games companies to work with them to avoid spikes in demand by not releasing patches at peak times.
As someone who has run a variety of training businesses for many years with a digital delivery method – either through pre-recorded video courses or live video-based 'webinar-style' training – I'm very much up-to-speed with all the options available as I use them daily. And as someone who also runs a face-to-face yoga teaching business I'm acutely aware that this is a very scary time for many local teachers given that the skills, training and experience that make for a good yoga, Pilates, karate (or whatever) teacher rarely overlap with entrepreneurial business acumen and in depth knowhow of online working.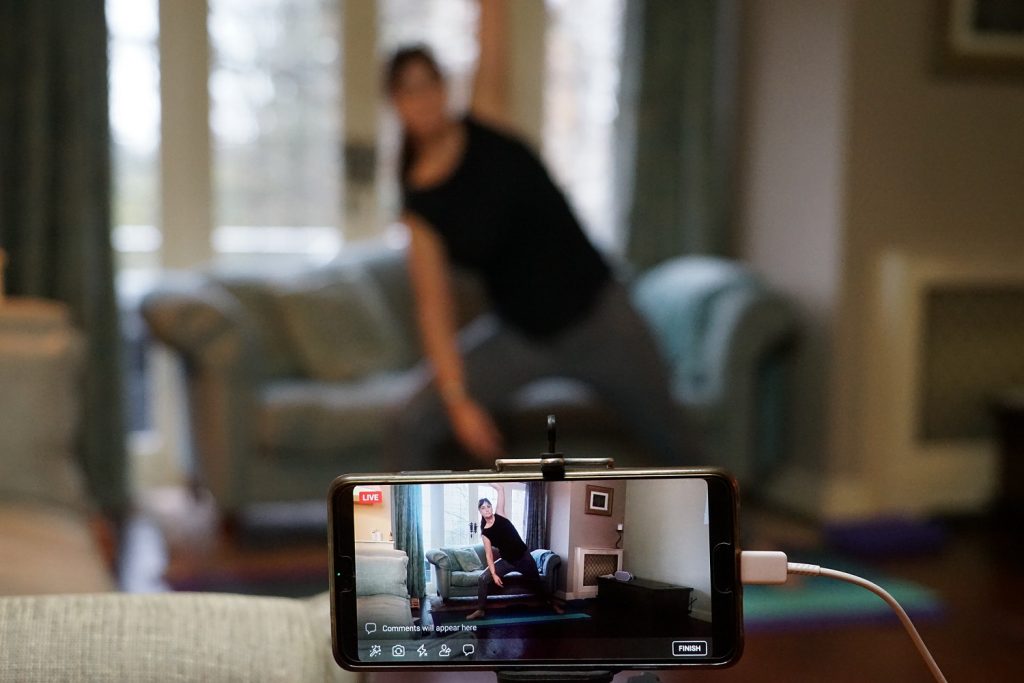 In the last three days many yoga teachers and yoga-related businesses have been in touch with me asking for advice on how to rapidly reinvent themselves for a world where their customers cannot leave the house. For my own business in the last week I have livestreamed all my classes so that students self-isolating can still take part. This article tells that story and also examines the other technologies available.
There are really two parts to cover:
How to conduct live (real time) class-based or private tuition sessions using online tools.
How to sell and deliver your knowledge in a digital format (e.g. pre-recorded video courses, checklists, exams) to your audience using online tools.
In this article I will examine the first of these two points as this is the most acute problem right now. I will publish a follow-up article covering the second point in a few days.
Which platform should I choose for live online training?
There are many options available on the market. The obvious free options are Facebook Live and Skype. For more features, including the ability to see your students Zoom and Microsoft Teams offer good functionality.
Here I compare the options:
Simple livestreaming – Facebook Live
Almost all my students are on Facebook so as an initial pilot Facebook Live was the obvious choice.
Your choices with Facebook Live will depend on the degree to which you want to monetise your classes. If you are happy offering them free-of-charge then a Facebook Page or a public Group is the way to go.
If like me your students have already paid for a term of teaching you may want to put them into a Private or Secret Facebook Group and livestream to that.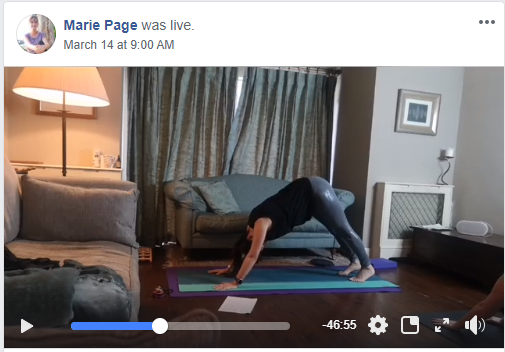 All you will need to do is set up your phone on a tripod, open up the Facebook Group and select the red 'Live' button underneath where you post. Write the title of the class and start teaching.
The downside of Facebook Live is that you can't see your online students so feedback and adjustments that you'd normally do as a response to poor alignment is not possible. You'll need to provide much more of a running commentary on the common issues normally seen in particular postures and demonstrate the right and wrong way yourself from in front of the camera.
Participants can type in questions and offer the usual reactions (Love, Thumbs up etc) but you'll not want to be overly distracted by them when you are guiding through a physical class, especially if you also have real life students in the room with you as well.
Zoom – the professional choice
Zoom's share price is up 30% in the last month. No surprise when it seems that most of the normally office-based workforce are now working from home and video conferencing instead of face-to-face meetings.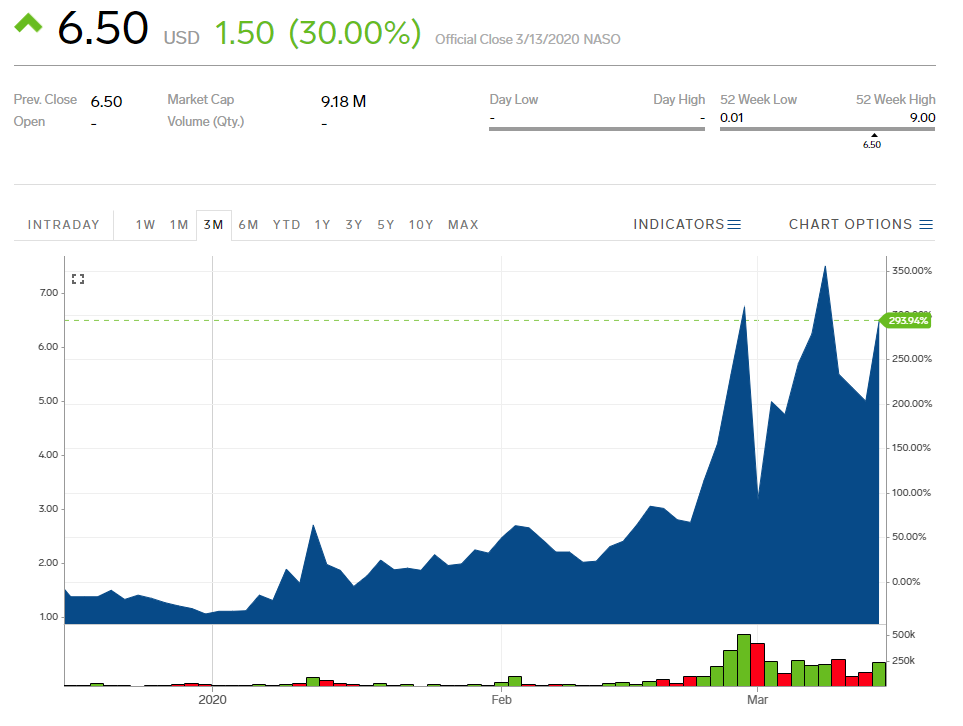 Zoom is a great piece of software, simple-to-use and provides you with the option to see your students while you are teaching them (assuming they have their phones or webcams appropriately positioned).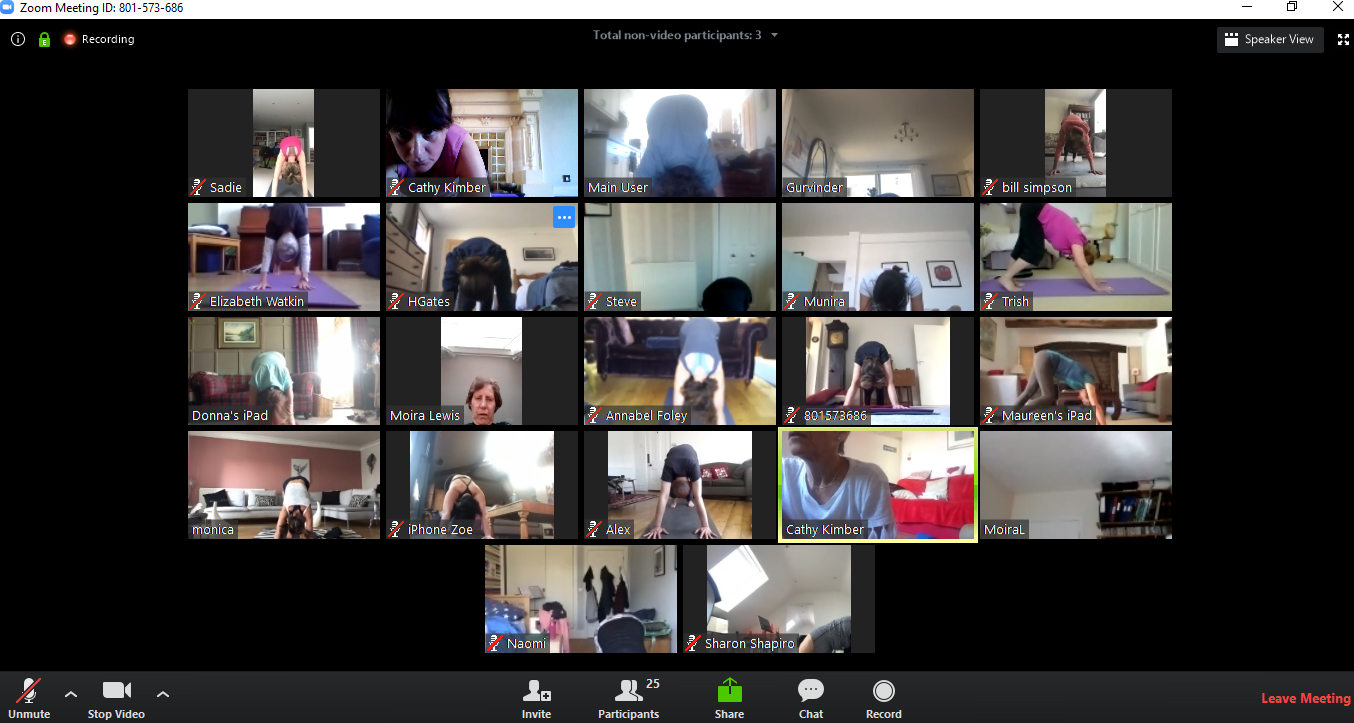 You'll be able to see everyone logged in via a grid view and you can zoom into have any one person fill the screen. So you could incorporate some Q&A at the end if you wanted.
Zoom has a free option but it is limited to 40 minutes per broadcast (they call it a Meeting) and you don't get a cloud-based recording of the class.
Better to go for the £11.99 a month Pro option where you can have up to 100 participants, a lot more functionality and the ability to have Zoom record and host the class for people that were not able to attend live. A full list of pricing options and features for Zoom is here.
You send a link to the students before the class starts and they can either attend live or watch the catch-up.
What I've done with Zoom in the past is to download the recording and then upload to my YouTube channel or Facebook Page/Group.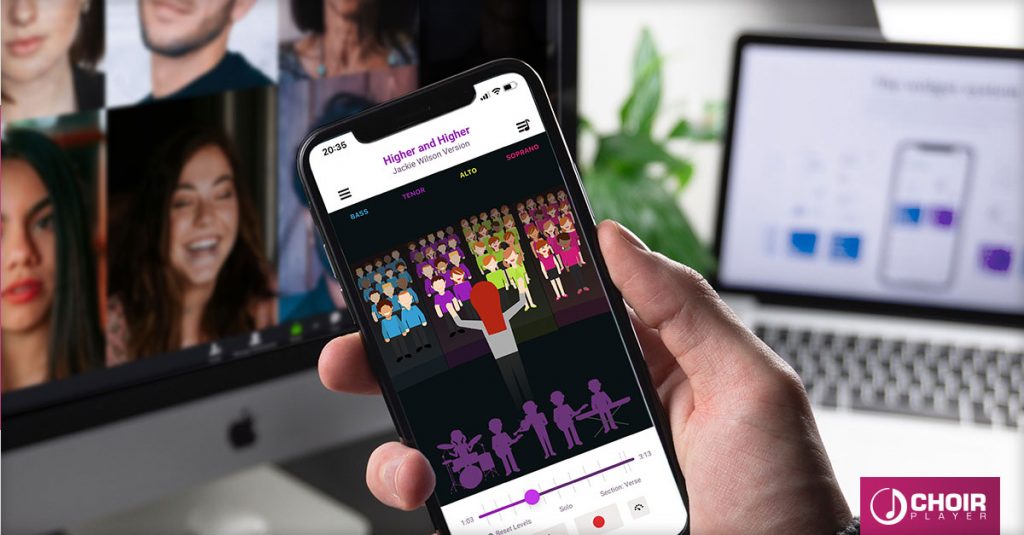 An example of choirs using Zoom for online rehearsals is given by choir app provider Choir Player. They have been encouraging choir leaders to set up virtual rehearsals using Zoom with their app providing the backing track.
One caveat for choirs using Zoom (or any of the other solutions) is that only the choir leader should have their mic on (to play the backing track and provide instruction). The sync simply won't work well if everyone is on mic. You'll setill hear the track and yourself and enjoy many of the benefits of group singing during this period of isolation.
Tips for using Zoom when teaching
Typically Zoom is used by business people sitting at their desks for conference calling or for perhaps presenting an online Powerpoint-style presentation.
For live teaching, especially when you need to demonstrate postures/asanas at a wider angle you will need your phone/camera set a lot further away than your webcam would usually be.
So if you are teaching you'll have your phone/camera set up quite significantly in front of you and likely too far for you to read the comments from participants or to even clearly see what they are doing.
What I'd suggest is that you use another device such as a laptop or tablet and have that on your mat so you can easily see what is going on whilst teaching to a different device/camera set up in front of you.
The selfie camera on a phone is generally of inferior quality to the front facing camera so ideally use that (you'll maybe need someone to help you set it up so you are fully in picture) and use another device set in front of you to monitor what is going on live.
Whereby
I have used Whereby a lot in the last year as a free video conferencing tool partly because the screen share option is so simple to use and I've found people struggle less with getting connected to it than they do with Skype (you simply send them a link to your meeting and they watch via a web page – no app to download and update) and no login for them to remember.
Whereby has a free option for up to four participants, a $9.99 a month option for up to 12 participants (with a $5 add on for recordings).
Pricing and full info here.
Whereby could be a useful option if Zoom goes down for whatever reason. And would be my go to for any more typical meeting-based work where you simply want to see faces and perhaps screenshare.
For yoga and Pilates teachers Whereby would work well as an alternative when you are teaching one-to-one instead of Facetime (iOS-only product, Skype or Facebook Live).
Microsoft Teams – the free professional solution
Microsoft Teams is the solution that many businesses are flocking towards not least because from December it is available free of charge and allows for up to 300 people per account. Whilst Teams is designed more for managing projects and communicating with a work team I think this could work really well for yoga teachers.
It has built-in audio and video recording with up to 10GB of team file storage (far more generous than Zoom). You can find out more about the free account here.
I had a good nose around a Microsoft Team account while preparing this article. This is what it features:
A FEED – notifications live feed
CHAT – this has full Skype-like functionality including audio calls, screen shares and video calls (this is the bit you would be spending most time working in as a yoga teacher). Each 'Meeting' or training event created here will have it's own chat thread.
TEAMS – you can build different groups of people in the Teams section. Each team has it's own separate feed with media posted saved as files. I could see this working quite well for teachers who have a number of different classes each week. So Monday's Power Yoga class could be a Team and Thursday's Yin class could be another team.
Whilst you would normally use TEAMS with a webcam there would be nothing stopping you filming a class either with your web cam or your phone as per Facebook Live
There is a Wiki inside teams containing all the essential info that you want to share.
A CALENDAR – this can list your different meetings/training events and people can join from there
CALLS – enables Voip calling between team members
A FILES area allows for OneDrive Cloud storage
I think the main downside for Teams is that it is a bit more of a technical solution for users than the familiar environment of Facebook or the simple one URL 'link to click' option of Whereby or Zoom.
Skype
Once the de-facto video conferencing solution, Skype has really fallen behind in recent years to be overtaken by other solutions I've outlined above. That said, Skype continues to be used by a faithful crowd of seasoned users, so if your students are already familiar with Skype it could make perfect sense to utilise it.
Skype works on PC/Mac and on mobile phones. You can invite participants to join the live call so you will see them on a grid, much like Zoom. However, just like Microsoft Teams (which is itself based on the now Microsoft-owned Skype), each participant requires their own Skype account. This will give them a username which they will provide so you as the host can invite each of them to join your call. As with Microsoft Teams, this is quite different to Zoom and Whereby with which you can create a unique link that you email or text to your students en-masse to join the session at the schedule time with a single click.
You might see this as a benefit rather than a limitation; you may feel the personal connection with each student suits your style and class numbers. Plus you will be able to keep tight control over who is on the call because you will need to add them, although this could also be problematic if students are late as you would need to stop to add them.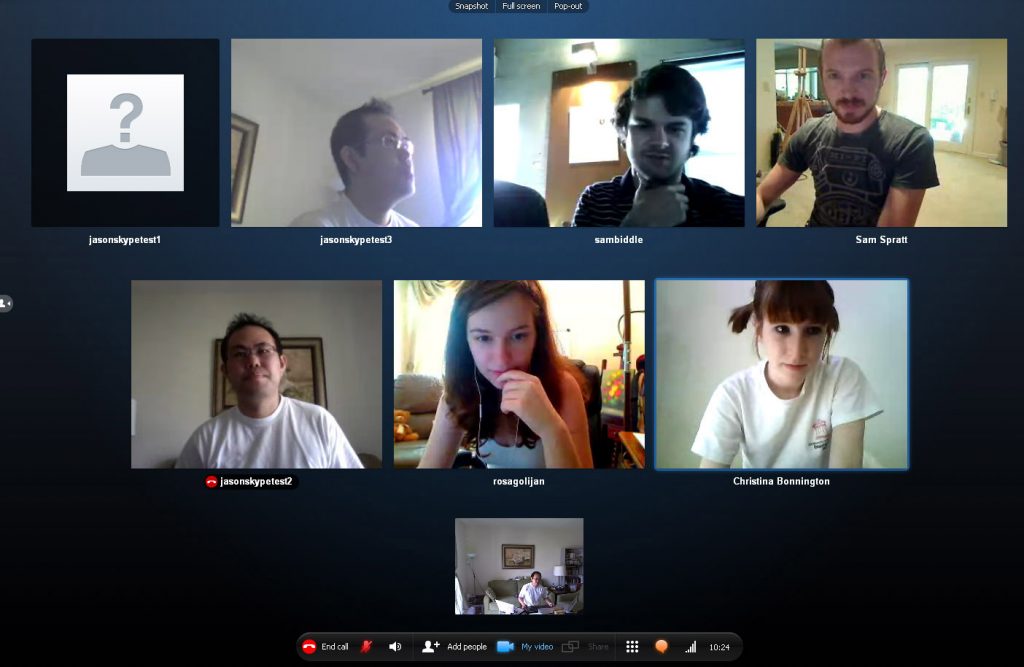 YouTube
YouTube also allows for live streaming. Your account will need to be verified (not difficult) and you will need to stream via webcam unless you have at least 1,000 subscribers in which case you can stream via the mobile app.
Access can be public, private or unlisted.
Private access allows sharing to a max of 50 different people.
To stream on desktop go to Creator Studio Tools then Live Streaming. You may need to wait for 24 hours to get access to live streaming the first time you attempt it. You can schedule your livestream ahead of time to let your subscribers know when you are going to be live.
FaceTime
Those of you with Apple devices – iPhones, iPads, Macs – can use the built-in FaceTime functionality to host video calls with up to 32 participants. The big caveat; everyone needs to be using an Apple device. That requirement alone will rule out this free and very simple options for most people. Nevertheless, for those with Apple devices the process is a breeze. You simply start a FaceTime call and add the participants (click the 3 dots and you'll see the option). You'll need to know their number or FaceTime ID (usually an email address).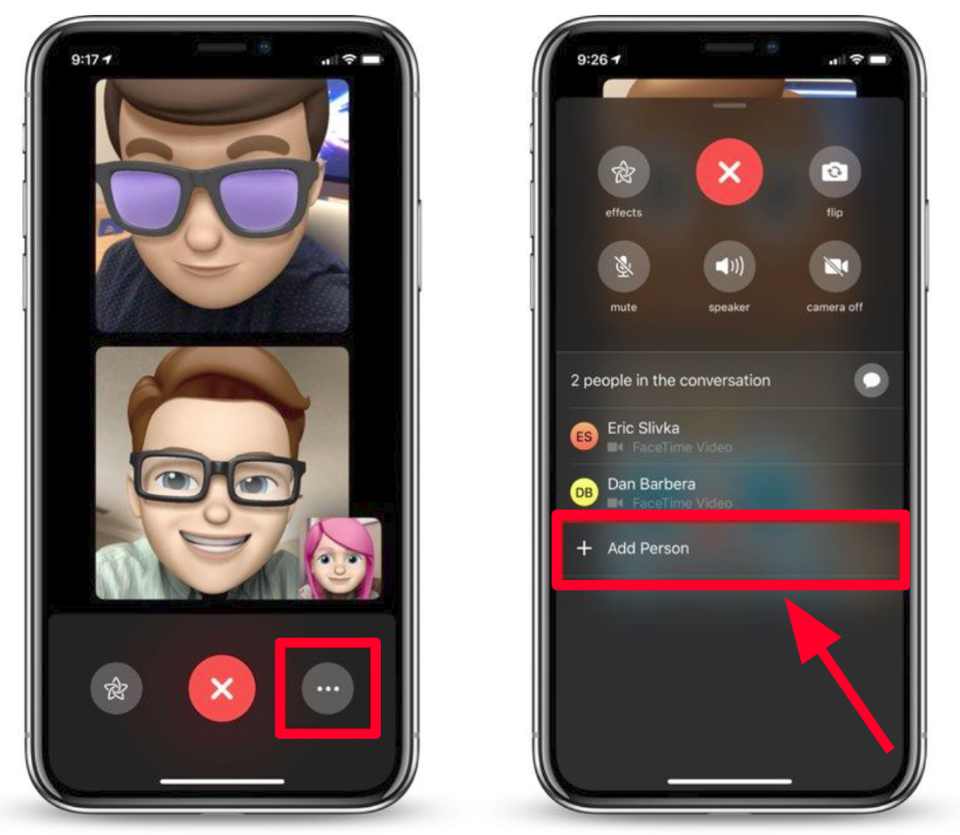 You can also begin a FaceTime within a group iMessage thread. Again, you'll need all the participants on the thread to have Apple devices but it's extremely easy – just click the FaceTime option in the group. Everyone in the thread will be notified to join the call (or they can decline). Those unable to join immediately, or who miss the notification, can join when convenient by simply going to the message thread and joining the video call that's already in progress.
Google Hangout
The much-loved Google Hangouts is still available, but is in the process of being replaced with two new products; Hangouts Chat and Hangouts Meet. Using the free version of Hangouts Meet you can perform group video meetings of up to 10 participants. If you have a GSuite account (Google's premium suite of products for small business and enterprise) you may have access to enhanced Hangout features but as these are not universally available until after June 2020 I would recommend steering clear of Hangouts for now.
Instagram IGTV
Instagram's IGTV is a bit of a different beast. It's far more akin to YouTube than any of the other 'live' options I've outlined above. With IGTV you can upload pre-recorded videos to your own 'channel'. From there your followers – or in fact anyone – can view them. So this would be ideal if you wished to make your class (or a taster) available to view to a large potential audience, perhaps as part of your marketing plans. Instagram tends to get massive engagement from users in general, so it's potentially a good choice of platform for gaining greater awareness of your virtual classes.
But bear in mind this is in the public domain so it won't make much sense to be charging for it!
A few things to note:
Instagram videos are portrait rather than landscape so bear this in mind when you're setting up. You may, for example, want to use two mobile phones – one landscape and one portrait – so you can capture the optimal experience for all platforms.
You are limited to 60 minutes so be sure to keep your IGTV videos to under this time.
Because the videos are pre-recorded you naturally have the option to edit your videos before uploading. Perhaps add your class name and contact information to an intro?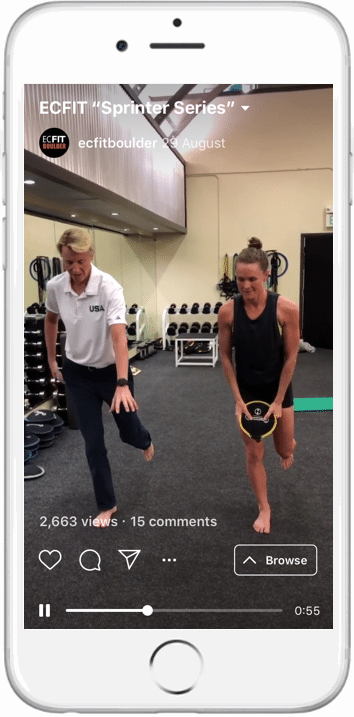 What you could offer online
The most obvious thing, particularly if you are shifting existing face-to-face clients to an online scenario is to carry on teaching the same type of class as you normally would. These can be livestreamed or pre-recorded. If livestreamed then make sure there is also an option for people to use to catch up too if they missed the class time live.
You could think of a series of classes around particular themes. Aside from the usual focus on chakras, hip openers, developing flexibility, strength focus etc you could work to include pranayama classes, meditation, dealing with stress and anxiety.
You could set up online mastermind calls that would work as group coaching. This could be a combination of pre-recorded content if you wanted along with live elements and a Q&A.
Equipment you will need
A phone or web cam (I use a Logitech HD 1080p), a good wifi connection and a tripod (with an adaptor to support the phone). Best to have the phone plugged in as videoing takes a lot of battery.
It is always best to use a mic if you can. For more traditional (non yoga teaching) Facebook Live I would typically be using a PM20 Lavelier wired clip mic on a long cable but a wired mic is going to problematic when teaching asanas. You could use Bluetooth earbuds – like AirPods or similar – as these contain a reasonably good mic and will sound much better than relying on your phone mic if it's some distance away. However, I have found that live-streaming using a web cam attached to a laptop enables me to plug in a decent mic such as the Blue Yeti which you can place on the ground or suspended on a stand (so that any bangs on the floor are minimised). The other advantage of using a laptop or tablet when using Zoom is that it will be easier for you to see your students.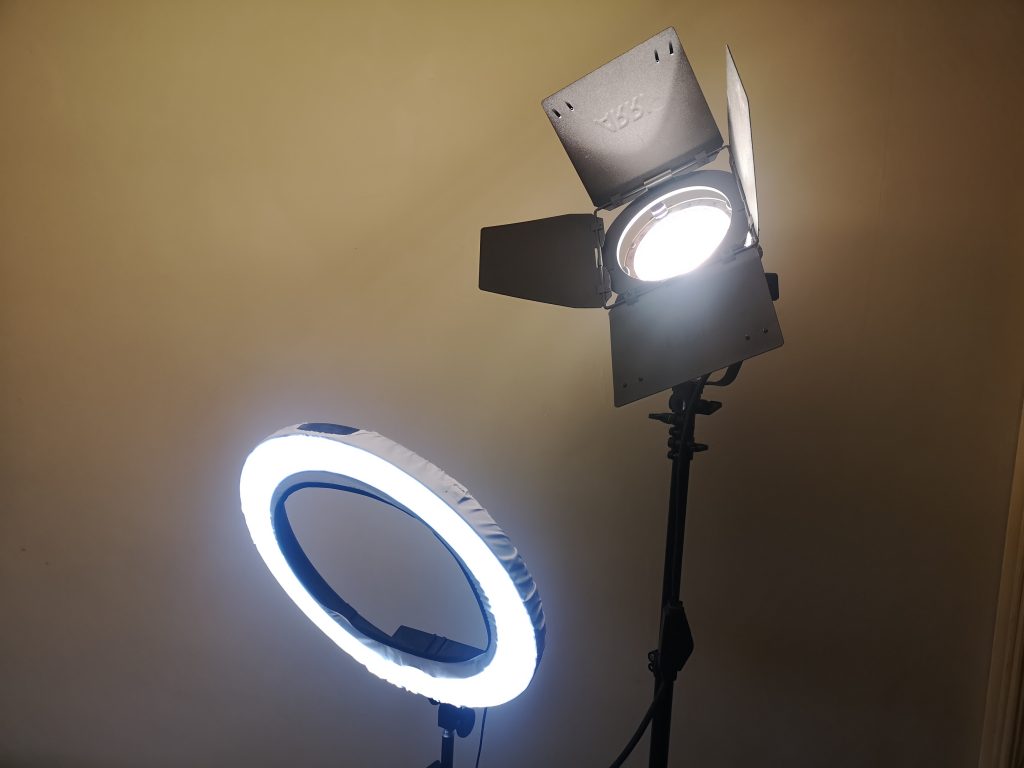 Unless the room has very good lighting you will need some additional lights. Professional studio lights are the best way to go (look for 'professional studio lighting kit' on Ebay or Amazon). They start at about £70.
The lights shown here are a studio ring light. This is fine by itself if you can position it very close to you. I have a little diffuser over it. THe other is a standard professional studio light which I've used for years for creating videos. Because it is very bright I tend to angle it at the ceiling to have the reflected light in the room.
Marie's new course: Setting Up and Marketing a Local Yoga or Pilates Business
The most recent course in the Digiterati Academy happens to be focused on how to set up and market a local teaching business. We'd finished it just as the Coronavirus crisis emerged so have done no marketing for it yet.
Our courses are normally priced at the £300 mark but mindful that yoga and Pilates teachers are a) cash strapped and b) currently in crisis mode, we've priced this one at £59 – that's a huge discount. A new 45 minute bonus module on how to transfer your face-to-face classes online is also included.
Click here to read more about the course content. The intro blurb is below:
The skills, training and experience that make for a good yoga, Pilates, karate (or whatever) teacher rarely overlap with entrepreneurial business acumen.
That's why we have put together a practical and easy-to-understand course designed to cover all the need-to-know aspects of how to set up and then market a local teaching business.
The course is ideal for new teachers setting up a business for the first time or old hands who need to get up-to-speed with digital technologies.
It is taught by The Digiterati's Marie Page, more commonly known as a social media and Search Engine Optimisation specialist but also a part-time yoga teacher who has brought all her digital marketing skills to good use in the setting up and highly effective marketing (and sharing the knowhow) of a local teaching business.
Find out more here https://www.digiterati-academy.com/store/DYEXcweB

Comments