I was recently interviewed by Telegraph Business journalist Jon Card for an article he was writing on how small businesses should use social media in 2019.
Jon also interviewed serial entrepreneur and all round social media guru Gary Vaynerchuk. I felt very honoured to be quoted in such illustrious company.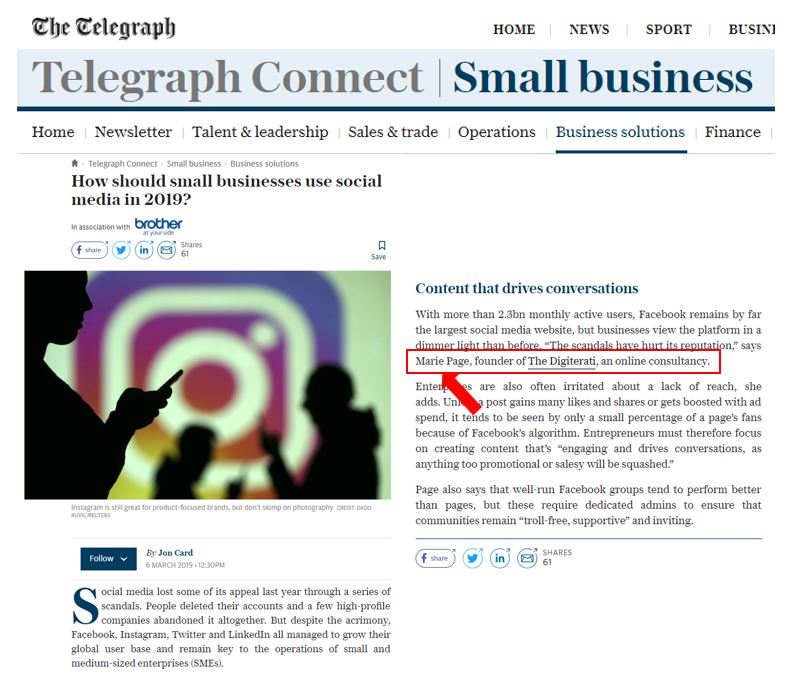 Inevitably a lot of the content I prepared wasn't used in the Telegraph's article so I thought I would share it here instead. Would love to know your thoughts in the comments below.
Are businesses getting annoyed by Facebook? Have the scandals hurt its reputation?
Businesses are fed up that only a tiny percentage of their Page's fans see their content. This problem with organic reach is down to the business of Facebook's News Feed and means that only between 2 and 7% of a Page's fans see their updates. Inevitably this pushes businesses into paying for advertising to guarantee visibility.
There is no doubt that the scandals have hurt its reputation. Trust has been eroded with businesses as well as users. And ad revenue from its major markets – Europe and North America is stagnating. But alternative options to reach potential customers are limited. Other online channels lack the visibility, reach or targeting ability of Facebook. Platforms such as LinkedIn are expensive, ads on YouTube are seen as interruptive and the traditional ad space of TV, radio and newspapers is out of reach for many small businesses.
What about FB's algorithms?
The NewsFeed algorithm exists to present people with content that they are most likely to engage with. It uses over 100,000 signals in deciding what to show. And each user's timeline is unique. The values governing Facebook's News Feed have historically been to inform and entertain but last year the emphasis shifted towards showing content that facilitated deeper engagement – what Facebook defined as 'meaningful conversations' between friends and people in their networks. Facebook wants people to stop being passive consumers of content and instead engage with it by commenting, liking and sharing.Are they seen as problematic?
People often claim not to want the interference of Facebook in deciding what to show them but an unfiltered News Feed for most people who follow a reasonable number of friends and Pages would quickly become overwhelming with a tidal wave of irrelevant or uninteresting content. The algorithm pushes forward more interesting information and Facebook has worked hard in recent months to limit the spread of fake news and click bait.
Are businesses suffering from shadow bans or a lack of reach?
Pages are certainly suffering from lack of reach unless they find ad budget to put behind their content. For sure better quality, engaging content will be seen more, but unless something goes viral fewer than 7% of a Page's fans are likely to see it.
I've seen a lot of complaints of ad accounts being closed down. Typically this is from businesses that were repeatedly breaking Facebook's Terms of Service or offering poor quality drop shipped products.
I've not got personal experience of shadow bans but none of us is happy with the way in which Facebook has been implicated in election interference and the persistence of fake news. I have found the extra hoops many legitimate businesses now have to jump through to, for instance, open and rapidly scale up new ad accounts a problem. Those advertising on issues Facebook deems political or 'of national importance' have to register through what I've found to be a bug-ridden process. One client that posts about environmental issues has found it impossible to advertise to audiences in the US despite having been fully verified and authorised to do so. Facebook's old motto of "Move fast and break things" surfaces all the time with new processes not quite working properly.
How can this be countered?
Understanding how the News Feed algorithm works is the first step. Knowing what type of content the algorithm likes (videos vs photos vs links) and creating a varied diet from that is a good first step. Focus on creating content that is engaging and that drives conversations. Anything that appears to be promotional or salesy will be squashed. Factors such as having a fully detailed About Page, posting at a time when your fans are most likely to be online, putting out content regularly but not overwhelmingly in terms of frequency are all good approaches.
And finally of course, businesses can pay to boost the visibility of their content. Personally I think this is fair. Advertising revenue is what keeps the platform free for all users. We would not expect a newspaper to carry promotional information about a business without them making a charge. You don't have to invest millions in advertising to get visibility. Be savvy in your targeting, learn how the advertising process works, pay to target your ideal customer and learn from what works before starting the process again.
What is working on Facebook right now?
Facebook Groups?
Groups enjoy significantly more visibility than Pages and those that are well run can yield significant benefits for organisations. Take the charitable organisation Veganuary. They have an active, well run Facebook Page and invest in ads particularly around their key month of January to drive interest in taking the vegan pledge. But together with their daily support emails, the key thing that keeps their new Veganuary subscribers on board is the supportive community in their Facebook Group. Some 35,000 people share recipes, ask questions, recommend products, post links, support each other and far more. And that's just the community. The Group's admins do a great job keeping the Group troll-free, kind and supportive.
Pages – waste of time?
An organisation has to have a Page to run ads. Whether you then choose to invest significant time and resource in updating your Page is a strategic choice for each business. For many, having some regular organic content is as important as having a website. Others choose to invest more time in facilitating their Facebook Groups or use the Page organically in conjunction with investing in boosting posts with a little ad budget.
Facebook ads – can they be done well? How?
Ads can be done well but they are ever more complex. The targeting options are increasingly sophisticated so businesses have a good chance of finding potential customers who share a particular demographic and interest profile. But it is easy to spend a small fortune on Facebook ads for little return. Getting it right is an evolved skill and tricky for a marketing manager who is also juggling a dozen other communication channels and many conflicting demands.
What many businesses miss is the opportunity for Facebook ads to promote to what I'd call "warm" audiences though. It is a cliché but targeting your low hanging fruit is going to yield more results than people who have never heard of you. Previous customers, people who have recently been on your website or interacted with your videos are all warm audiences. It is possible to retarget those with Facebook ads and, done well, your cost of conversion for these should be a lot lower than to a cold audience.
Many businesses rely on email marketing to existing customers and will not hear of paying money to Facebook to target them. But email open rates are often lower than 20%, many emails languish in promotions or junk folders. And everyone has an overflowing inbox so the likelihood is that your emails are simply deleted unopened. An engaging Facebook ad that is well written and creative stands a good chance of drawing attention. And of course, you can show the same ad multiple times – this is often a useful tactic and is proven to yield results.
I see many businesses doing Facebook advertising wrong though. The ads themselves are wrong, the copy is poor, the images sub-optimal, the targeting not quite right. Larger organisations outsourcing to specialist agencies where accounts are run by people who specialise in Facebook ads end up paying less and getting better conversions.
For small organisations there is this perception that because we all have a Facebook Profile we are somehow already experts. But getting the advertising right is a professional skill. There are plenty of courses out there to teach you how to do this well and agencies you can outsource to. I'm not convinced of the quality of all so discerning the right approach is the next challenge.
How we at The Digiterati can help small businesses with Facebook
From online courses, face-to-face training, phone-based mentoring through to consultancy we have a variety of ways to support you to get the most out of Facebook for your business:

Comments