Originally designed as a cure for writer's block, WordSmith (or Hemingway) Cards are a great tool to help you devise content for blog posts, newsletter content and even social media questions.
I came across them (inevitably) via a Facebook ad (you can watch the video here) and it struck me that they could be a useful tool for social media managers desperately trying to think of new engaging questions they could ask of their Facebook Group fans or Page followers.
The WordSsmith Deck includes 100 prompt cards each with a reflective question. Designed initially for people keeping a journal but who have a hard time deciding what to write about, they were named after Ernest Hemingway who was an enthusiastic journaler himself. However, BestSelf who creates the prompt cards has recently rebranded them the WordSmith Deck.
A few sample cards:
What does the world need to know right now?
What does someone else have that you envy? Describe the situation and your feelings about it
What's one family tradition you'd like to carry on in the future?
List 50 things that make you smile
What's something you've let go that once meant the world to you?
What qualities do you admire in yourself?
Describe the moment you became a "grown-up"
Now clearly these can easily be used for personal journaling but what about the commercial social media manager?
I reckon many could be adapted to business settings relatively easily. Here are some ideas from the above cards:
What does the small business world need to know right now about XXX?
What do other marketers have that you envy? What can you do about it?
What's one workplace tradition that you've enjoyed that you could introduce elsewhere?
List 50 things that make you smile about your industry
What's something you've let go in your career/business practice that once meant the world to you?
What qualities do you admire in yourself in relation to your role as a XXX?
Describe the moment you became a "grown-up" in a career or business situation
Here's that first question adapted for our Digiterati Inside Track Facebook Group: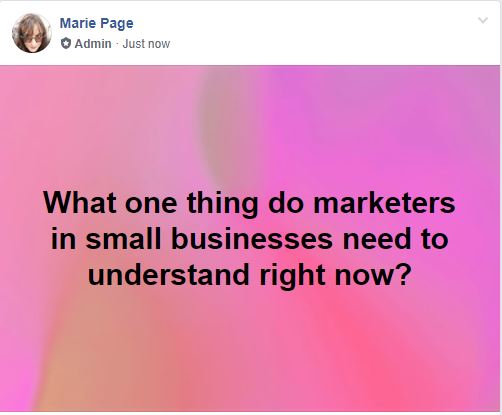 I've been using the cards recntly with the Musicademy Facebook Group that I administer. Musicademy is a group for church based musicians playing contemporary worship music. Here are some of the ways I have used ideas from the cards: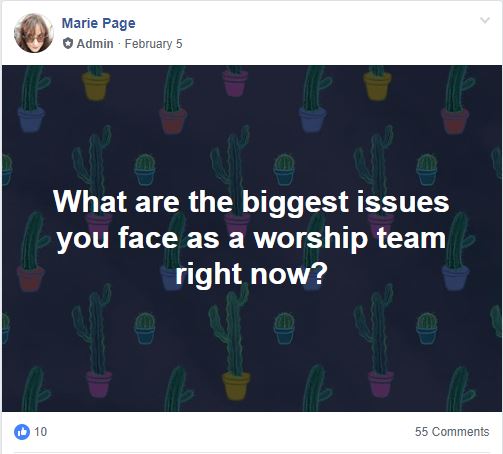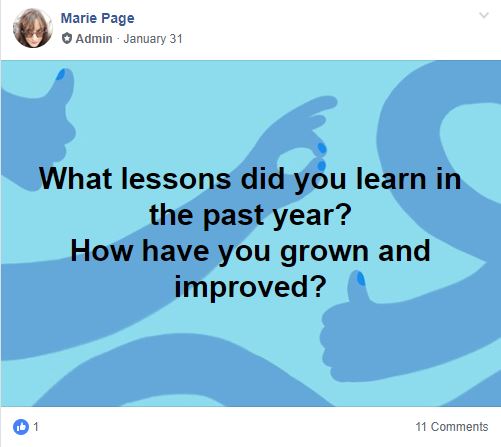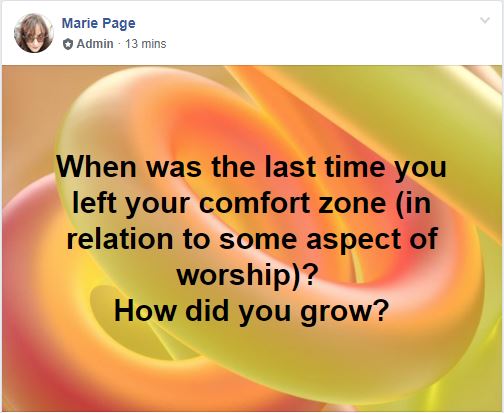 I've kept the graphics treatment really simple, using Facebook's own background graphics and the large type options you get with shorter posts. This helps them stand out (I tend not to use them other than for this kind of questions).
It would also be easy to create a graphic using a tool such as Canva to further brand or personalise the design. Do be aware though that the Facebook algorithm is not traditionally that friendly towards 'photo' uploads so these text updates (that look more like a photo but actually aren't treated as such) can work well for reach.
Each question yielded a good range of responses and many of the responses were deep and engaging. Of course the Facebook algorithm loves that, but as a community manager I loved the fact that we were going deeper as a community, people were sharing quite personal thoughts and what started as a simple question was resulting in deeper bonds between people.
In a world where social media is so often dominated by the trite this is gold indeed.
What do you think? Are these cards something you might be interested in exploring. Link here (not an affiliate link) to the US store – do select a different geographic location when prompted as shipping ends up being very costly otherwise.

Comments