Did you know that since September 2015 any business could buy and place adverts on Instagram? Better still, they could do this easily using Facebook's existing Ad tools with no new system to learn! Sounds good, right? But what does this tell us about Instagram?
The significance of this news wasn't lost on me at the time Instagram rolled out ads to every advertiser, yet even to this day it seems to have been largely glossed-over by mainstream social media news sources. Even Instagram's own announcement back in September was sketchy on exactly what businesses could do, let alone how they could do it. Since then Instagram have continued to release new features for advertisers but still few are aware of the possibilities or how easy it is to have a dabble. But most importantly, there's little real understanding of why businesses might now consider advertising on Instagram.
I've unpacked the key points, the different ad types, plus a brief look at how to get started with Instagram ads. But first I wanted to give you the background on why this news is so important…
Instagram throttles organic reach, signals end of the free bar
Delegates at The Digiterati social media workshops will testify that for months and months I've been banging-on about how Instagram is the top channel for free organic reach and engagement (remember that, Facebook?). I merrily went around comparing it to being at a party with a free bar!
These weren't just my views but were backed-up by research from Forrester in their 2014 report called Use Instagram Now, in which Nate Elliott proclaimed Instagram The King of Social Engagement, with organic engagement per follower (at the time) a whopping 58 times greater than Facebook and 120 times greater than Twitter. Pretty convincing stuff.
Now to an extent this remains true today, but with a huge caveat: Instagram is putting the brakes on organic reach. Big time. That bar bill has gotten expensive and Facebook needs to make Instagram pay its way.
This is neatly highlighted in a graph from Forrester's updated research this September, showing that organic engagement on Instagram almost halved in 2015: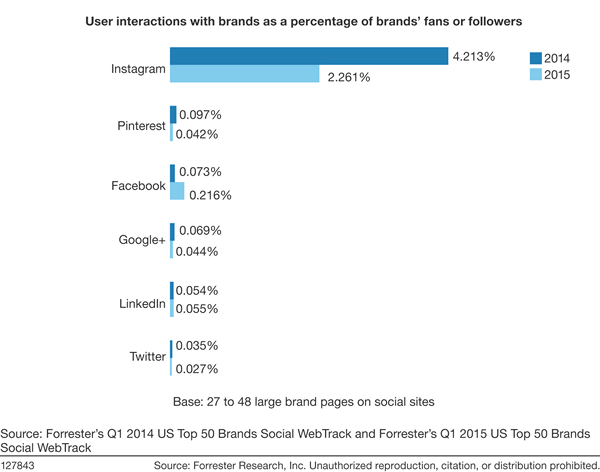 Further recent research by Locowise confirms the downward trend. Mind you, even today Instagram is still around 10x the engagement of Facebook and 84x that of poor Twitter.
But this is clearly only going one way. In order to insert ads into users' Instagram feeds it stands to reason that organic will suffer. They can't just conjure up that inventory from nowhere. Plus the rush to Instagram means more users, more posts and more competition for the same real estate. So advertising is becoming an important element of an Instagram strategy and marketers who consider Instagram a key channel will likely know they need a budget for ads in 2016.
However, Instagram ads are more than just about getting seen. They're now all about getting results…
The secret trick Instagrammers use to get clicks to their website
One of the biggest frustrations for businesses using Instagram has been the inability to drive traffic to external websites. Viewers of your gorgeous Instagram photos or videos are effectively 'locked' within the walled garden of Instagram because you can't include clickable URLs in regular Instagram posts. Sure, you can go ahead and include a URL in the image caption or in a comment but it won't be hyperlinked – it will only appear as plain text meaning a user would have to go through this tedious process to actually visit that link:
View the caption or comment
Copy the URL taking care not to copy the entire text
Switch to web browser app
Paste the link into browser address bar
Hit Enter / Go
Given Instagram is almost exclusively a mobile experience the above fat-fingered process would only ever be used by die-hard followers and freebie-freeloaders. In other words practically never. So as a workaround, savvy Instagrammers found ways of encouraging people to visit their Instagram profile – the single place on Instagram where a URL is clickable – and use that link instead. They would frequently update this URL to point to their latest blog content, YouTube video, product or offer. Sneaky!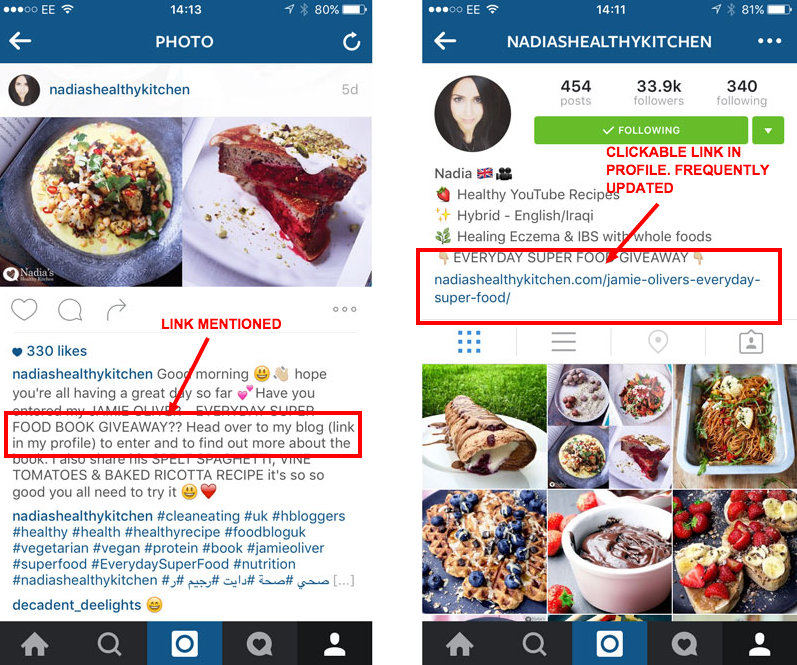 Instagram's coming of age: direct-response
With now over 400 million active users it's very difficult to ignore Instagram as an opportunity for the canny marketer, but this limitation as a direct-response platform has held many back in the past. Social media gurus have tended to suggest Instagram for brand building and awareness rather than driving actual traffic, signups or sales. 'It's all about awareness, not about driving referral traffic like Facebook' we're told. And certainly from an ad-awareness perspective it appears to work if you believe Instagram's research suggesting "97% of measured campaigns on Instagram have generated significant lifts in ad recall".
However, Instagram's general release of ad availability to businesses back in September changed everything. They extended the availability of direct response features (albeit at a cost) meaning all brands and businesses can now add a destination URL to an Instagram ad, making the whole (paid) post clickable. Now you really can drive traffic to your site direct from the 'gram. BOOM!
There are three types of actions (or objectives as they're known) you can now associate with an Instagram ad:
Clicks to website
App installs
Video views
Let's look at each of these objectives in turn.
Clicks to Website
This is really simple. You want people to click your Instagram ad and visit your website, right? Whether your goal is driving traffic to your homepage, a product page, a discount page, landing page or squeeze page for email capture this is the ad objective that will work for you. You can associate a call-to-action button such as 'Learn more', 'Sign up' or 'Shop now'.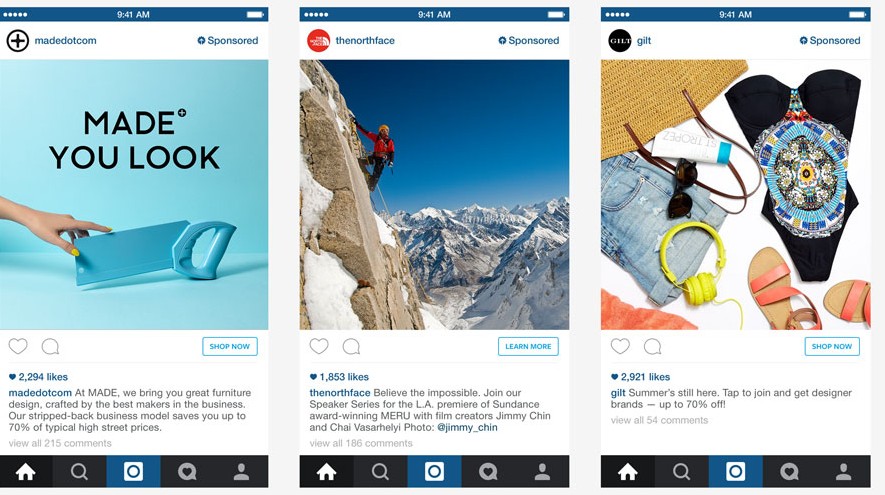 Naturally you can include campaign tracking (UTM tracking tags) on that link if you don't want to reply solely on Instagram's analytics and want to do some campaign analysis in Google Analytics.
Advertisers can use three ad formats with the Clicks to Website objective: Image, Video or Carousel
For most advertisers 'Clicks to Website' will be the one you've been waiting for.
Mobile App installs
Does your business have a mobile app that's listed in one of the official app stores? If so you might find this ad objective very useful indeed. People clicking on your Instagram ad will be taken from Instagram directly to install your app from the appropriate app store for their device. This has been available on Facebook (and Twitter for that matter) for quite some time and has seen pretty amazing results on those platforms. This new rollout brings it to the Instagram masses for the first time.
There are two ad formats available to use with the App Install objective: Image or Video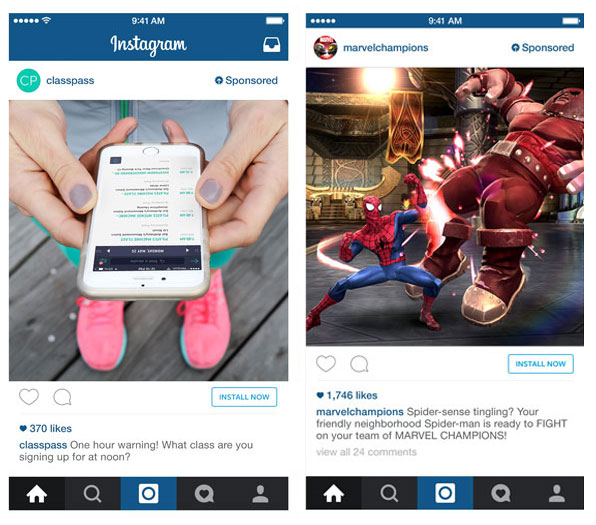 Video views
Instagram started testing video ads way back in 2013 but now they have made them widely available and improved the formats available to advertisers. Video ads can now be up to 30 seconds long, can optionally include audio (which the user is prompted to tap to hear) and can even shun the square format for traditional landscape. If you already have a video ad (or even a short and snappy explainer video) you use on other platforms such as YouTube you could now use that creative on Instagram.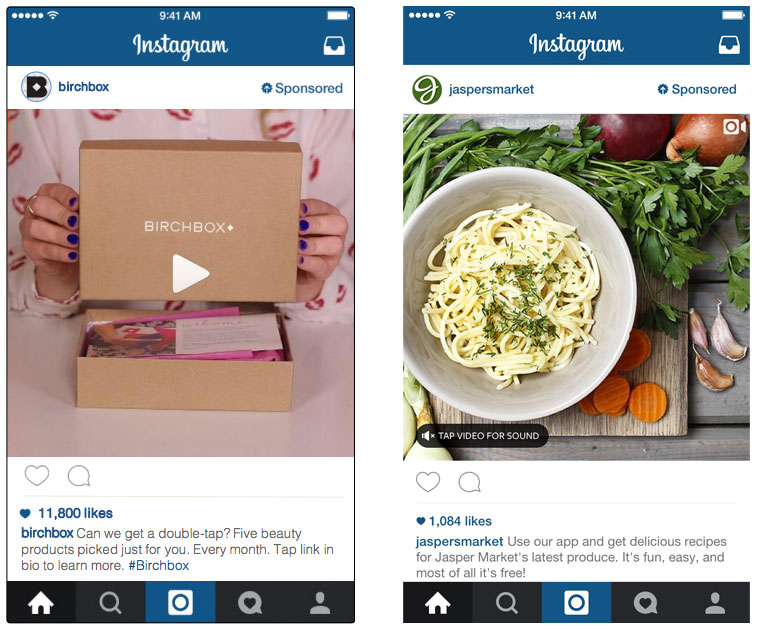 Using Facebook self-serve platform to create Instagram ads

The really great thing about Instagram ads is how easily you create them, using the same familiar ad tools you use for Facebook ads:
In fact the process is identical, with just the new placement options added when previewing the ads. You can connect your Instagram account during the ad creation process and your ads will be represented by your profile on Instagram. But even if you don't have an active Instagram account you can still place ads on Instagram! Simply select your Facebook Page instead (as I have done in the screen shot below) and that will form the representation of your business on Instagram.
Here's what the Facebook self-service ad platform looks like when creating an Instagram ad: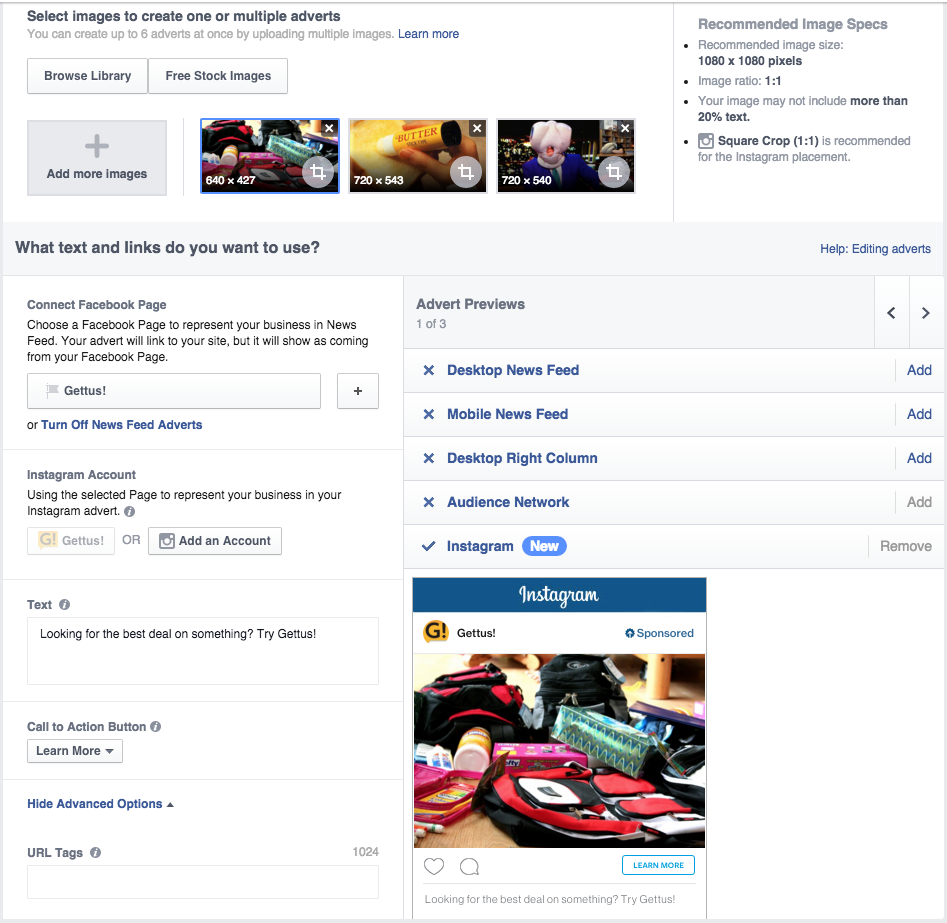 My co-founder Marie wrote a post explaining the differences between Facebook's self-serve ad platform and Power Editor. In this she takes you step-by-step through the process of creating an ad using the self-serve tool, so if you need some guidance go and check out her post.
Facebook have also updated their Ads Guide with all the new Instagram ads and using their interactive ad tool you can view the objectives and placements for every ad type that Facebook and Instagram support. Head on over to their Ads Guide to check it out.
Targeting options available on Instagram
In April Instagram made it clear how they would provide targeting in their ad products:
"Working with Facebook, we will enable advertisers to reach people on Instagram based on demographics and interests, as well as information businesses have about their own customers. We will also improve the feedback mechanisms within Instagram to give people greater control and improve the relevance of the ads they see."
Instagram now uses Facebook's wealth of data to help advertisers target ads on Instagram to people they want to reach. In reality, most people on Instagram are probably on Facebook too and so they are able to match-up profiles, cookies and other data to build up a very accurate picture of who the users are and what they like. So you can expect the exact same targeting options for your Instagram ads.
Similarly, advertisers can create their own audiences within the Ad Manager by uploading customer email lists or by installing a tracking pixel on their website. Retargeting on Instagram is now a reality.
All too much for you to do in-house?
If you are familiar with Facebook advertising, creating Instagram ads should be a doddle, but we know you're probably juggling a thousand other priorities too. Here at The Digiterati we make life simpler for our clients by split-testing and optimising Facebook and Instagram ads for them with our new 'Done For You' social ads service. Because not everyone loves creating and testing Facebook and Instagram ads so as much as much as we do! If you're interested in learning more about how we can help you with your ads you can read more here.
Want more help with Facebook (and Instagram) ads?
Check out my brand new course 'Zero to Hero with Facebook Ads' in the Digiterati Academy. You'll fast track all my knowledge of what's working to create great Facebook and Instagram ads right now and feel confident in your ability to run an effective campaign.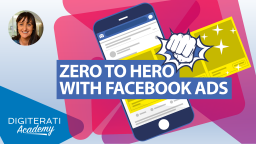 Comments