What is the best size specification for FB Page cover photos?
In short, the optimum size is one that works on high res displays, renders fully on mobile and still looks good on desktop. We've gone into great detail on recommended size specifications for Facebook cover photos in another blog post so read that for all the background but the size you want is 1920 x 1080 pixels. This will work well for Facebook Pages, Groups and even Profile cover photos.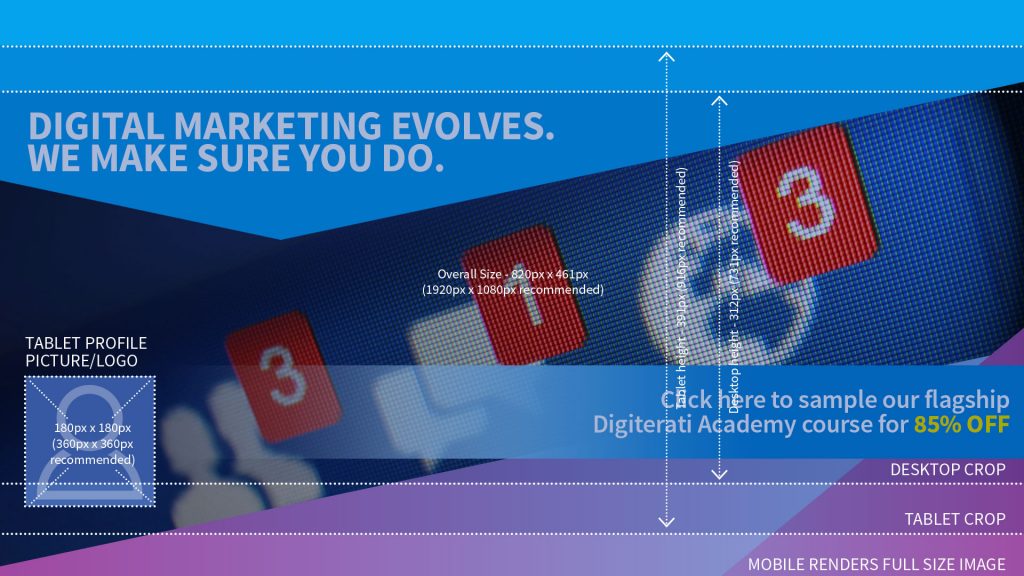 Things to consider when creating a Facebook cover photo
Cropping
Facebook will surface that photo in multiple ways. You'll find it cropped from the top, the bottom, the sides and even to form a circle in the middle. Sometimes Facebook moves the circular crop to the left or right when it detects a face in the photo.
Try to ensure the image works in as many variances as possible. Use our free Facebook Cover Image Size Guide for more guidance on safe areas for text or download our free Facebook Cover Image Photoshop Template (just pop your email address into the form at the top of this page) which has done all the hard work for you
Designers generally create these images sat in our offices on a big, wide screen and forget to see how they look on mobile/smartphones.
Text
Copy on an image can be great at getting your marketing communications message across. Just ensure it doesn't get awkwardly cropped (see free guides above)
Logo
I don't think you always need to have a logo or brand name on your cover image. Facebook will always surface it with your Page name alongside (or over the photo) so save that space for something else – a descriptor, a strapline, a sales message
Resolution
Just because a photo looks great on your screen does not mean that it works at full size on other devices, in particular the new retina displays. If your original photo simply isn't big enough don't use it. You'll end up with a pixellated (fuzzy) image.
The very smallest size you should be using is the traditiona shallow letterbox size of 820 x 250. Even with these dimensions we actually recommend you create this in 1920 x 585 for optimum display using Retina Screens.
Dimensions
Make sure your dimensions match the way in which Facebook will display it – too wide in relation to the height and you'll find it is cropped. Use our guides to help. Nowadays Facebook is mobile and video first so a video-style 16:9 format is always what we would recommend. We cover all the new Facebook cover photo sizes in a blog post.
Format
Notice everything is a little fuzzy? For profile pictures and cover photos with your logo or text, if you've not optimised your image properly for the web you may get a better result by using a PNG file rather than a JPG.
In the past Facebook has compressed very large files which can render images fuzzy. We haven't found that happening recently but we assume that if you are trying to upload a monster file then Facebook is likely to compress it severely.
Optimisation
It is important to optimise the image correctly for the web – a lot of the queries we see about image problems are to do with poor optimisation and compression.
We would recommend using a .jpg for optimum resolution at the smallest file size. The best way to do this is using something like Adobe Photoshop and exporting the image with 'save for web' as this will optimise the image better and give you a smaller file size. Download our free Facebook Cover Image Photoshop templates.If you don't have Photoshop there are several free services online that you can use. Most of the photo libraries have photo editors on their sites now. We'd recommend Shutterstock's Editor which has plenty of social media templates and enables you to edit and resize your own images for free (i.e. they don't have to be Shutterstock pictures). Be aware that Shutterstock's Facebook cover image template is for personal Profiles, not Pages – you'll need to put bespoke dimensions in for a Facebook Page – ideally 1920 x 1080 pixels. What most free software won't do is optimise the size of the file very well so you may want to use an image optimisation and compression tool to do that once you have your final image how you want it. We have found Tinypng works well.
Recommended profile picture size – for Facebook Profiles and Pages
Profile pictures (Page or Profile) are best created in 360×360 pixels. This covers Retina Display and will be compressed for other displays.
This gets cropped to a circular shape in ads and posts but remain the same square shape when people visit your Profile or Page
Confused about Facebook's naming conventions?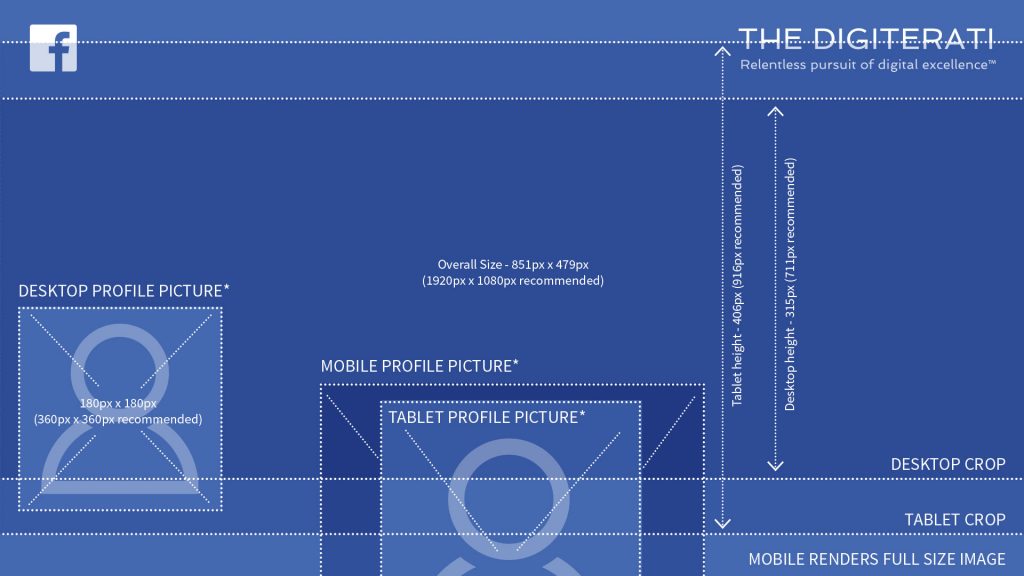 The Profile Picture is the little square image associated with your Profile (normally your headshot) or your Page (often a logo)
This gets cropped to a circular shape in ads and posts but currently remains the same square shape when people visit your Profile or Page
The Cover Photo is the letterbox shaped image that sits across the top of the page where your personal Facebook Profile, business Facebook Page or Facebook Group lives
Facebook Profile – this is your personal profile on Facebook Example https://www.facebook.com/Marie.Page.Digital
Facebook Page – this is what businesses create on Facebook – they are not Profiles! Example https://www.facebook.com/TeamDigiterati
Facebook Group – an online community that exists on Facebook that may or may not be commercial in nature. These can be Open, Closed or Secret. Example https://www.facebook.com/groups/teamdigiterati << come and join us, it's free!
Digiterati freebies to help you with your Facebook Cover Photos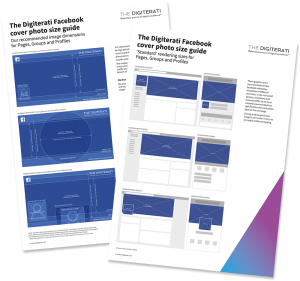 Enter your email address in the form at the top of this page and we'll whizz over to you, totally free:
Our free Facebook Cover Image Photoshop Template with marked-up layers for Pages, Groups and Profile images
The Digiterati Facebook Cover Image Size Guide with recommended sizes and screen grabs for you to use when creating your image on other software or briefing your designer

Comments