The bit of the talk that didn't make the cut for BrightonSEO
Most BrightonSEO talks are just 20 minutes long. It's tough cramming everything into a topic in that time. So inevitably I ended up culling a lot of my slide deck. This video and blog post covers the bits that got edited out. Still super useful for anyone about to launch or thinking about launching a Facebook Group.
If you missed Part One you can find it here.
Blog post variant of a transcript for the Part 2 video below:
Group cover photos
Some of the assets you will need will include a cover photo.
It won't surprise you to know that Facebook has changed the spec for these multiple times in recent months.
We've settled on a Digiterati recommendation that works consistently across Pages, Groups, Profiles and Events.
Facebook themselves suggest different sizes for Pages vs Groups but we have found one size that works well for everything.
Use a 16:9 aspect ratio (as per HD video) and create your image in 1920px x 1080px.
Depending on the device you use to view the Group you will experience a little cropping at the top and bottom so simply avoid putting text in the top and bottom of the image.
Set your Group Rules and enforce them
Be consistent with the rules and make them a condition of membership. You'll want to have a link to these in your Welcome (Pinned) Post as well as your Group description. Many Groups also use one of the three questions that prospective can be asked to ask "Have you read and agree to abide by the Group rules?" Somewhat annoyingly you can't put hypertext links into these questions.
Rules might include "Do not block admins", "No going live", "No polls", "No self promotion", "No friending of Admins", "No requests to PM". You'll have plenty, I'm sure, of particular relevance to your community.
What will you do with people who break the rules?
If and when the rules are broken message offenders and delete offending posts.
Ban or mute repeat offenders. I will also instantly block anyone that majorly violates a rule, especially if they post spammy links.
Train your team
Involving your team in the planning stages will enable early buy-in to the Group as well as shaking through any likely issues that may arise with your particular target market.
Our training schedule with Motability began with a full day of training about Facebook in general. We focussed on how to make the best of the Page and also looked at the News Feed algorithm. It was there that we seeded the idea of a Group.
We were then invited back to work through the detail of putting a Group together and also to help the digital team to sell the idea into the Board. With multiple geographic sites, a large customer services team, a PR agency and a digital team there was plenty to do to enable buy-in, consistency and a coherent launch plan.
Use this time think about your response time KPIs for new member requests, responding to questions, out-of-hours cover as well as your long term goals for the Group
Finally, we invested time scenario-planning different issues that might arise, devising a response to them as well as developing a content strategy that dovetailed with other communications, the website and Facebook Page.
Procedures for dealing with complaints
You will need to agree a procedure for dealing with complaints that might arise within the Group. Most larger organisations will already have well developed policies for handling social media complaints. If you don't have anything, I like the FEARS framework:
Find all mentions
Empathy
Answer publicly
Reply only twice
Switch channels
You may also want to scenario-plan for crisis management.
Promoting your Group
It's a good idea to promote your Group as widely as you can to get that all-important critical mass rather than a tumbleweed timeline. You need enough people for it not to be a ghost town but not so many that you spend all your time fire fighting. The magic number will vary but you need to work had to ensure you get engagement in those crucial first weeks so plan well before you launch.
Email your list on launch and follow up later with snippets of some of the discussion that has been enjoyed in the Group in recent days
Mention the Group in Newsletters -two years after launch I still mention Group content in every newsletter and each time we get a slew of new members joining
Pin a post about the Group to your Facebook Page especially if, as with The Digiterati, most of your focus has now shifted to the Group.
How to promote your Group in a Facebook Ad
Clicks to website ads work for public Groups but not for closed or secret Group. However there are three workarounds you can use instead:
Use a url shortener to bypass the facebook.com domain restriction in the ads create tool
Use a link ad and send to a web page that has a forwarder in place to the Facebook Group
Create a post on your PAGE with a link to the Group
Boost that post
Content ideas
Your community will post plenty of content but if it gets quiet you might like a few ideas to fall back on.
Evergreen content – just as you will be familiar with from your Facebook Page, you can push out evergreen content – usually in the form of link posts to your Group
Advice & training – as most of what we do at The Digiterati is training, the Group is a great place for us to showcase our training approach. One regular feature is me pulling apart an example of a particularly poor Facebook ad and making a bunch of suggestions. . I like to do a Shout Out when I see great examples of Facebook marketing or organisations doing something a little different. Where necessary I've also given some gentle critique too. Typically I will chose examples from organisations I have previously done training for, or who are members of the Digiterati Academy.
Job Posts – there is a particular Content Type called Job Post. Encourage members to use this when advertising a job
Watch Party – Watch Parties are a new feature for Groups. You watch an existing Facebook video together to enjoy a shared viewing experience. This is for a live experience only and the Party isn't available to enjoy after the event.
Online Events – whilst you are well aware of Events for Pages, Groups can also create events. And due to the nature of Groups, these are typically online. These could be a Facebook Live, a Q&A with questions submitted in advance as well as on the day, an interview with a celebrity guest, an Ask The Expert, a behind the scenes tour – even a virtual Christmas party
I covered Theme Days in the previous talk/blog post
Welcome post
It's good practice to include a welcome post – typically this is pinned to the top of the Group.
It's your chance to explain again who the Group is for, what behaviour is expected and to reinforce your rules.
You can also use the prompt post Facebook creates for you with all the members tagged to write a welcome post each week
I ask people to introduce themselves. As Facebook tags everyone that is new to the Group you know they are likely to see a notification.
I vary this up each week and have a bit of fun with it. Sometimes I suggest people introduce themselves via the language of emoji
Free stuff from The Digiterati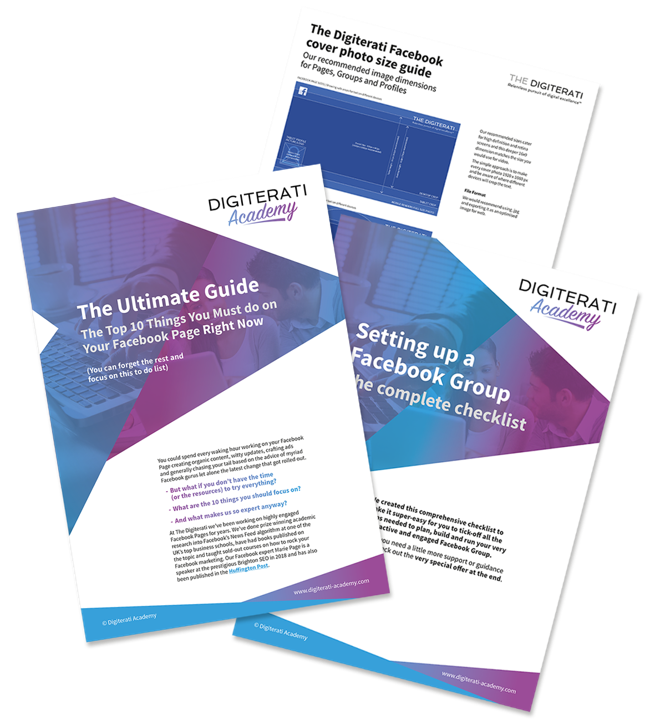 You are also welcome to grab some freebies from us.
These include our:
Facebook cover photo size guide and Photoshop template
Checklist for setting up a Facebook Group
The Ultimate Guide to Facebook Marketing

Comments