Another great new feature for Facebook Page Admins. We can now use the Facebook Page 'New Inbox' to manage messages, Page comments, comments on Page posts shared to your Group and even Instagram!
Carlton explains all in the video below:

As usual, if you'd prefer to skim through some screen shots and instructions here's how it all works:
First of all you need to have linked a Facebook Group with your Page. We show you how to do that here.
Go to your Page and click "Inbox" in the top nav.
You might be prompted to switch to 'New Inbox' which is where all these features live.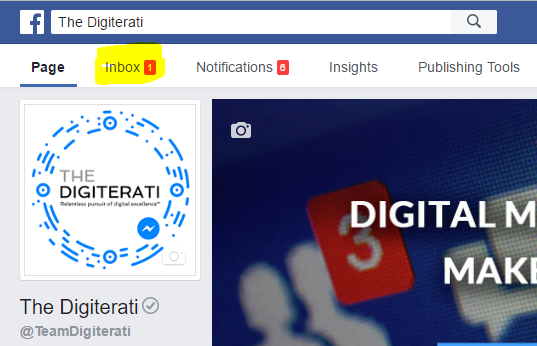 Click on the three little lines next to the word "Inbox" to see your folders.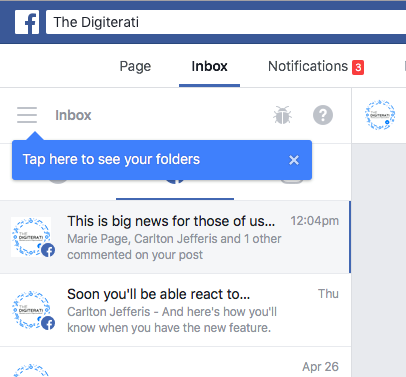 You'll now see three options in the top of your Inbox:

On the left (with the zigzag icon) is your Messenger inbox. In the Middle is your new Facebook "universal" inbox which includes your Page and any linked Groups. And on the right is your Instagram inbox.
As this is a new feature there is a handy bug reporting tool (see the little bug in the top right).
Here's how our combined Page and Group inbox looks: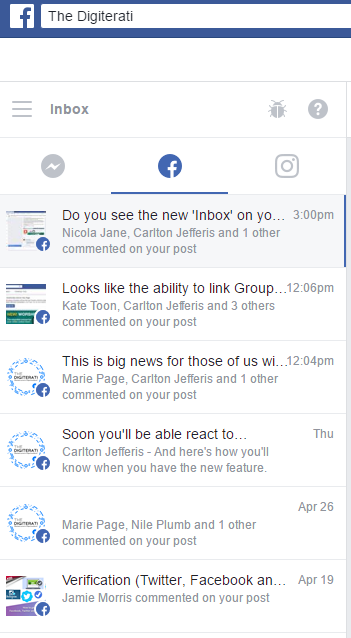 The "headline" here is the text used in the status update with the name of the commentators below. This is only showing posts that we have made as the Page into the Group as well as posts to the Page by fans so remember that you will still need to go to the Group natively to see those and to moderate comments on posts that other people have made to the Group.
Click on those three little lines again and you'll see that you can flag messages for follow up, as done or as spam: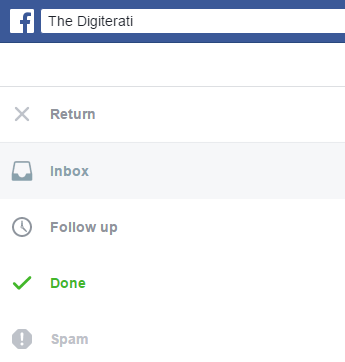 You can add items to the follow up folder by hitting the little clock symbol on a message.

One of our eagle-eyed followers, Nicola Jane, noticed that the 'labels' feature is now missing from the New Inbox. This was a really handy way of labelling messages for follow-up or quick-reference, and it's something we used ourselves at Digiterati. We've submitted a bug report and screenshot to Facebook and await their feedback!

Comments