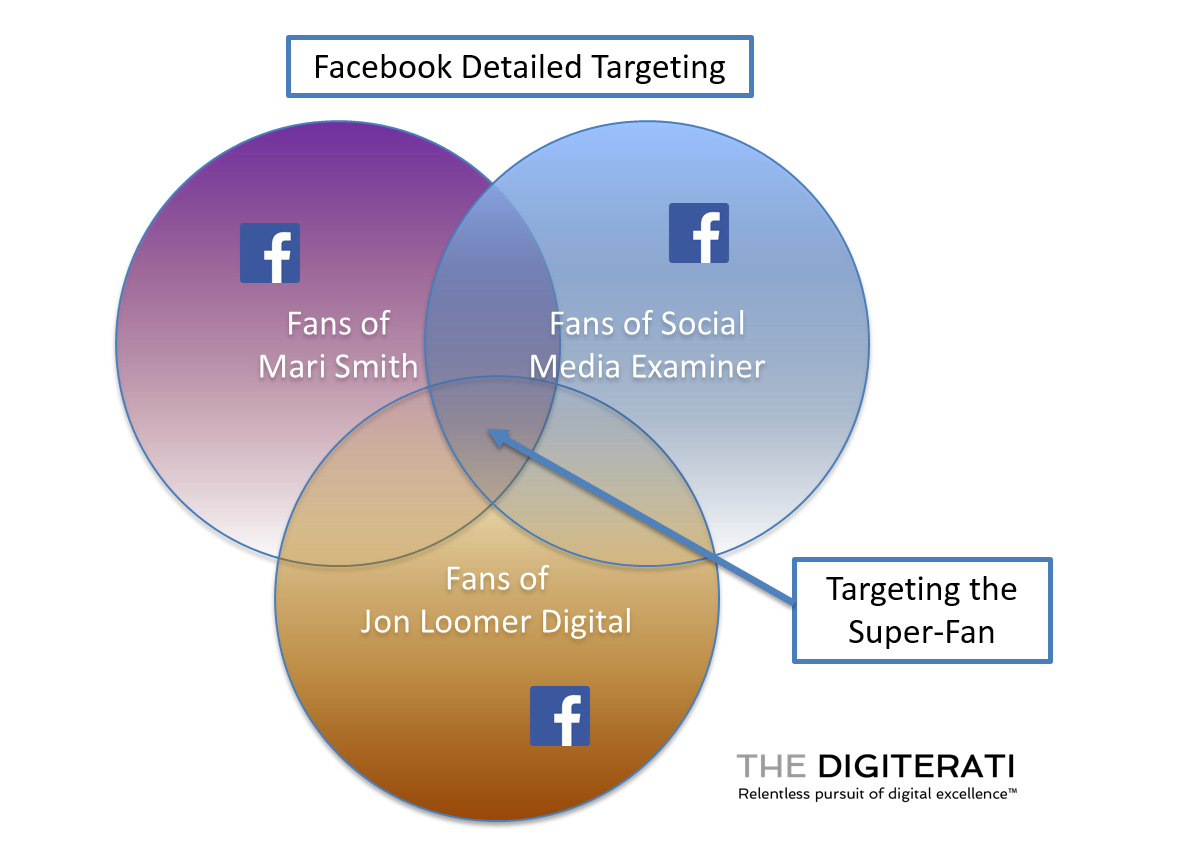 Top of my wishlist from Facebook for the last nine years (yes that's how long I've been advertising on Facebook) has been the ability to use the magic "AND" word rather than "OR" when it comes to selecting Interest targeting. I've called this "Boolean Targeting" or "Overlap Targeting" and it became the holy grail for me as a Facebook advertiser. This level of targeting would mean targeting those people in the Venn Diagram overlap – the people that liked ALL the things I was listing in interests rather than just some of them.
OR vs AND, Boolean targeting, Overlap targeting, Detailed targeting: Confused already?
Let me explain. Previously on Facebook, when you wanted to target people with specific interests it used to be the case that you only got the chance to target people with at least one of the interests you specify. For instance, to target people that like social media marketing you'd probably have to target people interested in the big social media names such as Mari Smith, Social Media Examiner, or Jon Loomer Digital. You were only able to target people interested in Mari Smith, Social Media Examiner, or Jon Loomer Digital NOT people interested in all three. The problem with this is that your target numbers grow and the actual targeting accuracy likely dilutes. I've also found that having lots of interests reduces the all important quality score.
What I had been looking for was a way of targeting the super fans (or the super hot target) of Social Media Marketing. My desired targeting was people that liked:
"Mari Smith AND Social Media Examiner AND Jon Loomer Digital" rather than "Mari Smith OR Social Media Examiner OR Jon Loomer Digital".
The difference between the AND and the OR is huge.
In the UK alone there are 130,000 people that like any one of those three Pages. When we combine all three we are down to 41,000 people. These really are the super fans. If you were selling a social media product then wouldn't you want to target people REALLY into social media and engaging with multiple social media brands online, rather than people that happen to just like one of them?
I had a vested in interest in this very specific targeting method. One of the clients I support with Facebook advertising is a very niche company called Musicademy which sells instrument training DVDs to church based musicians. Due to the highly specialised nature of the customer base and product range it's been quite a challenge to efficiently promote to this niche. I have found to my cost that simply targeting people that like "Guitar" meant that about 90% of the ads were being shown to people who were guitarists yet had no interest in worship music. What I needed was the ability to target people that liked "Guitar" AND "Worship Music". If you're targeting a niche like this, the 'AND' could potentially deliver a much higher advertising return for you.
I first talked to Facebook about this dream in 2007 and just a few weeks ago they finally rolled it out in a feature they named Detailed Targeting. Having tested this extensively over several weeks I've found it does indeed help find those Christian guitarists in dire need of Musicademy DVDs. That's great news for your Facebook advertising targeting and ROI!
The good news is that Detailed Targeting is available now to all Facebook advertisers via both Power Editor and the Ads Manager. Get in touch if you'd like our help exploring how you can reduce your ad spend on Facebook by better targeting your niche audience.
Here's how it looks without Detailed Targeting

See how Facebook just adds the interests together – the ad will surface to people who match any one of the three interests listed.
Here's how it looks with Detailed Targeting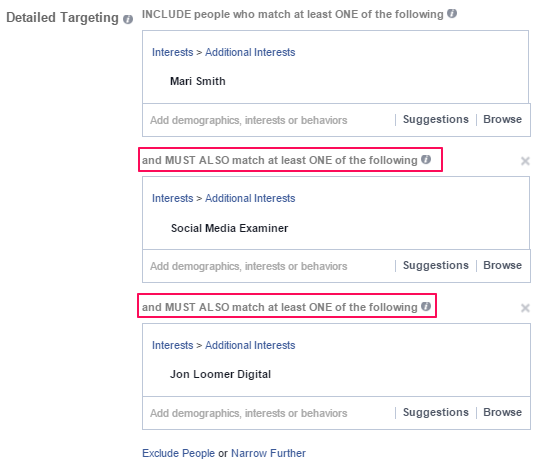 With Detailed Targeting the ads will only surface to people who have ALL THREE interests.
Can I use this method to exclude people too?
Whilst probably quite a niche requirement, Detailed Targeting can also be used to exclude people with certain interests. Let's imagine you are selling merchandise for the Formula One racer, Lewis Hamilton. You definitely want to target fans of Lewis Hamilton and probably to combine them with those who are also fans of the Mercedes F1 team, to make sure they are seriously engaged. You probably want to also exclude rival and team mate Nico Rosberg. This combination is likely to be a well focussed targeting choice, especially if your budget is limited.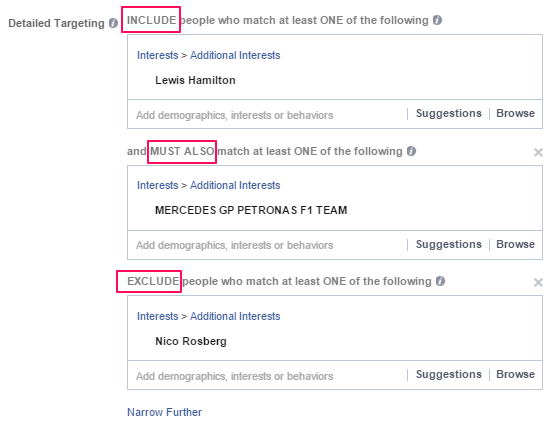 Where do I find Detailed Targeting?
Detailed targeting is now an option within the Ad Set level when you create ads on either Ads Manager or Power Editor. Look for the "Narrow Audience" option.

Does Detailed Targeting work?
Detailed targeting is not for every brand or sector. But when you have a huge potential market it does help if you can target people REALLY interested in something rather than those that just have a passing interest. And it's just great for combining weird interest areas – for instance a motorbike holiday touring company providing trips to New Zealand might like to target Motorbikers that like New Zealand. You could even add in Travel as an additional interest area.
One sector I think this could work really well for is the charity sector. It's well known that donors often support multiple charities. How much better therefore to target advertising at people who have a known interest in two or more charities.
Detailed Targeting has been great for Musicademy, which targets church going musicians by combining various Facebook interest groups. Our Detailed Targeting ads certainly outperform other kinds of ads we run on the platform and we've been able to experiment with lots of different interest areas to further hone down what works.
And of course you can combine this with other factors. For instance, you can identify people that have visited your website using a Website Custom Audience group and then target a subset of this group based on their interests. If you want to explore this kind of targeting for your own audience, come and have a chat with our team.
Does it all seem too much?
Detailed Targeting can really benefit your advertising ROI and improve your audience targeting. If you're struggling to keep on top of all your Facebook activities, let us help. We offer a broad range of Facebook services to take the weight off your shoulders.
We can help you in one of three ways:

Do-It-Yourself With Coaching
We'll train you and your team (either at your offices or online) to use Facebook ads efficiently and effectively. Prices start from £199.
Get more info.

Done For

You


We'll assess your goals, target marketing, customer profiles and from that build, test, run and analyse your Facebook ads from scratch. Get started here.
Online training
With the Digiterati Academy
Want more help with Facebook ads?
Check out my brand new course 'Zero to Hero with Facebook Ads' in the Digiterati Academy. You'll fast track all my knowledge of what's working to create great Facebook ads right now and feel confident in your ability to run an effective campaign.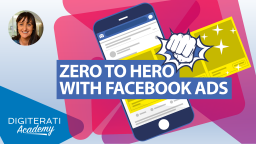 Comments