I have a confession.
For the last couple of years I've often used AdEspresso over Facebook's Ads Manager or Power Editor when creating Facebook ad campaigns.
Initially it was because AdEspresso allowed me the holy grail of being able to target people with more than one interest. Then Facebook rolled this out into Power Editor and called it Detailed Targeting.
But by then AdEspresso had me well and truly sucked in because a) it's platform is soooo super easy to use and b) it enabled intelligent split testing between images, headlines, body copy and more without me having to do anything other than provide it my variants for testing and c) I got more variants for targeting than natively on Facebook (which was particularly useful when I was running ad campaigns targeted by people by company they worked for and job title (sadly this ability has been at least temporarily removed by Facebook and by association AdEspresso).
And then d) the reporting was just great.
But I'm now back on Ads Manager / Power Editor.
Partly because I have to teach people how to do advertising on Facebook and most of my clients are working natively (so I have to keep up because if you snooze for five minutes it has all changed) and partly because I've seen some professional criticism of AdEspresso from Facebook ad professionals which indicated that it messes with Facebook's auto-optimization algorithms and makes early cue assumptions that may not be correct.
So I'm extremely happy to finally have Dynamic Creative rolled out to me on Power Editor and the updated Ads Manager.
What is Facebook's Dynamic Creative all about?
Dynamic Creative is Facebook's way of intelligently testing (and by that I mean multi-variate testing with the resultant learning automatically leading to Facebook delivering the asset combination that works best) different ad assets including:
Title/Headline
Images or Videos
Text
Description
Call To Action Button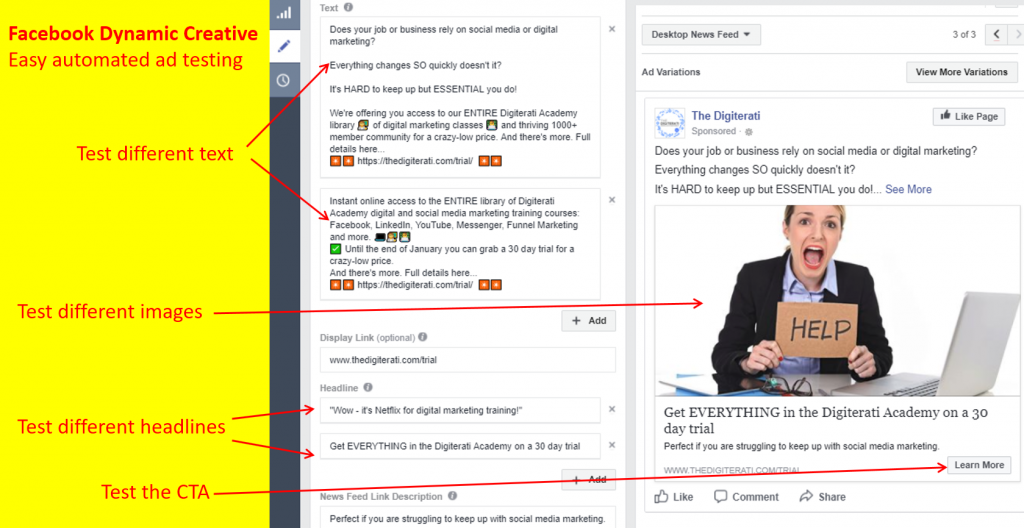 You can test up to 30 variables to see which perform best but I'd strongly suggest testing a smaller number unless your budget is huge and your target audience pretty enormous too.
It's available in Power Editor and the updated Ads Manager (you need to be in the Quick Creation workflow).
It supports the following objectives:
Conversions

App installs

Traffic
Finding Dynamic Creative
Dynamic Creative is selected at the Ad Set level. So ensure that your campaign objectives are one of the three listed above and create a new Ad Set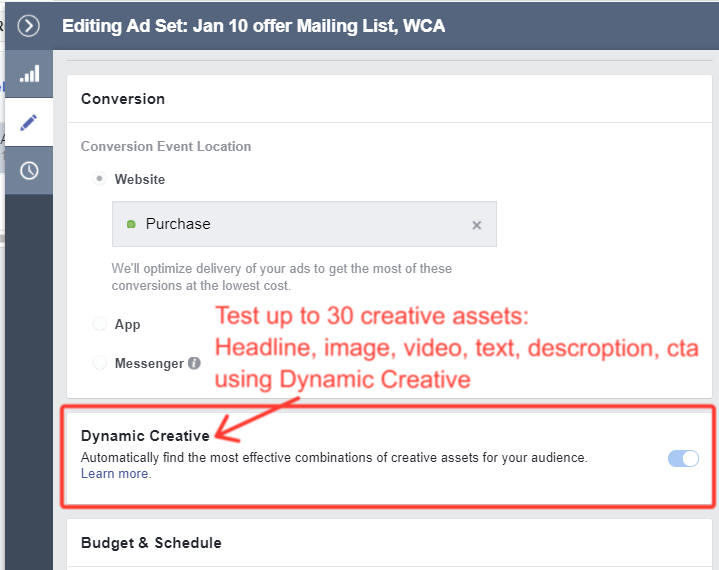 Set the rest of your Ad Set up as usual selecting targeting and then go to create your Ads.
You'll want to have one basic ad that you put your variables into.
Here's the ad we are using at the moment for a $10 trial offer for the Digiterati Academy.
I've uploaded four images to trial: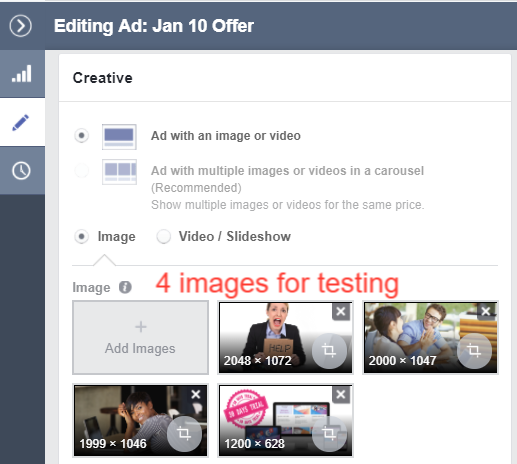 And two text variants: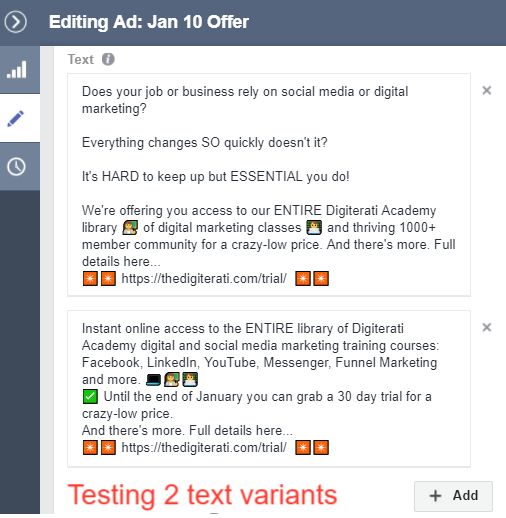 A note on the text.
Firstly, this platform is still buggy. The only way I can get carriage returns to work is to paste them into another platform (Notepad or simply start drafting the text in your personal news feed) and then paste it into Power Editor.
And secondly, I'm playing with Emojis. Power Editor doesn't offer these so you'll need to create them in a standard Facebook post (no need to make it live) and copy and paste the emojis into your ad text.
Call to action
I personally don't like CTAs much in ads. On mobile they end up truncating the headline (which I think is way more important) so I tend not to use them unless I have an ad set for desktop only. But with Dynamic Creative you have to have a CTA. At least this can be one of your test variables.
How to view the ad variants
Assuming you've used Ads Manager / Power Editor before you will be aware that you get to see a preview of the ad in the pane as you create it.
Click "View More Variations" to see the options: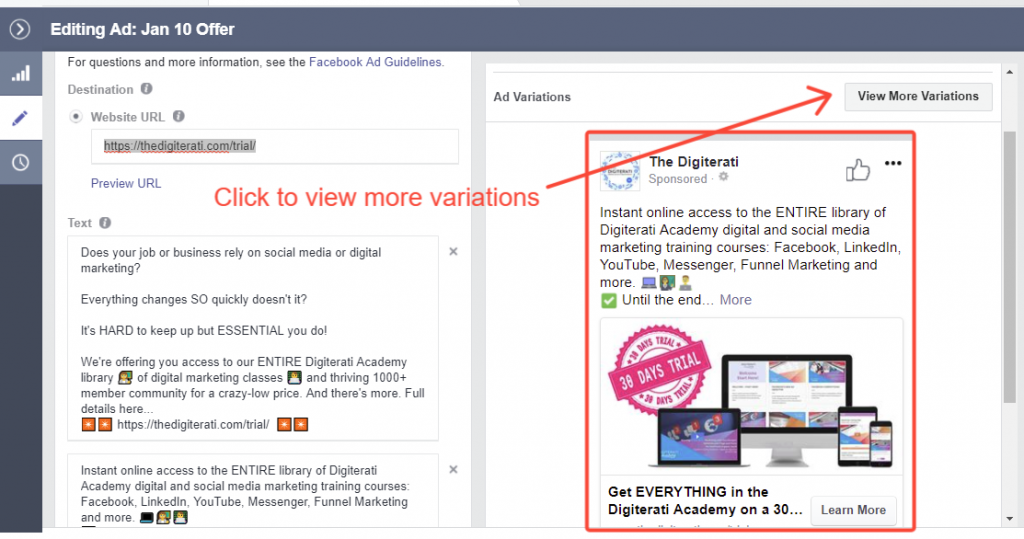 You then click the different asset elements on the left to generate a preview of the ad on the right: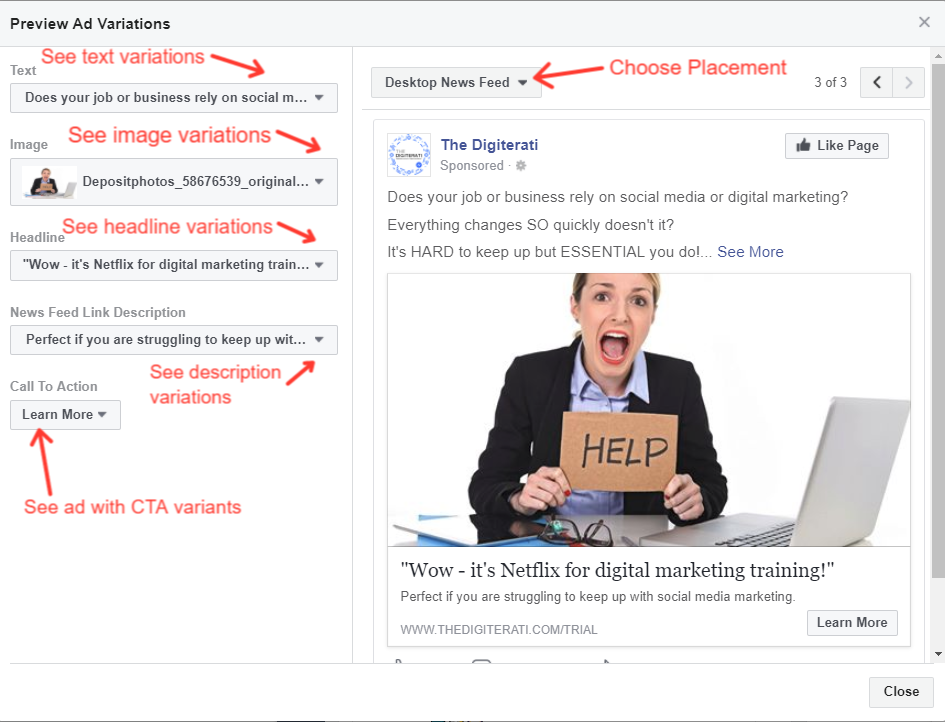 How to see the results
Once you have an ad using dynamic creative, you'll want to know which ad variants are performing the best. This is multi-variate testing so you'll need to see a breakdown of the different assets on test.
In either Power Editor and Ads Manager:
Click Breakdown above the reporting table, and then select By Asset

Select from: Image, Video, Headline, Text, Description, Call to Action, Website
Now you can view the columns for Results, Cost per Result and CTR (Link Click-Through Rate) to see these metrics by asset type.
At Ad Set level you can also select the breakdown Age & Gender and other options to see what type of people are interacting with ad creatives which will help inform your targeting in future too.
But one of your ads broke the 20% text rule!
Yup, it did. I deliberately chose one of my four images with more than 20% text in because my hunch was that it was the strongest image. And sure enough, it significantly outperformed the other images. Sure I got lots of warnings from Facebook about the amount of text (to be fair most of it was illegible as it was text on a computer and iPad screen) but I carried on and got a very decent number of clicks from that ad. Facebook did charge me more for impressions but that was the image that converted.

Comments