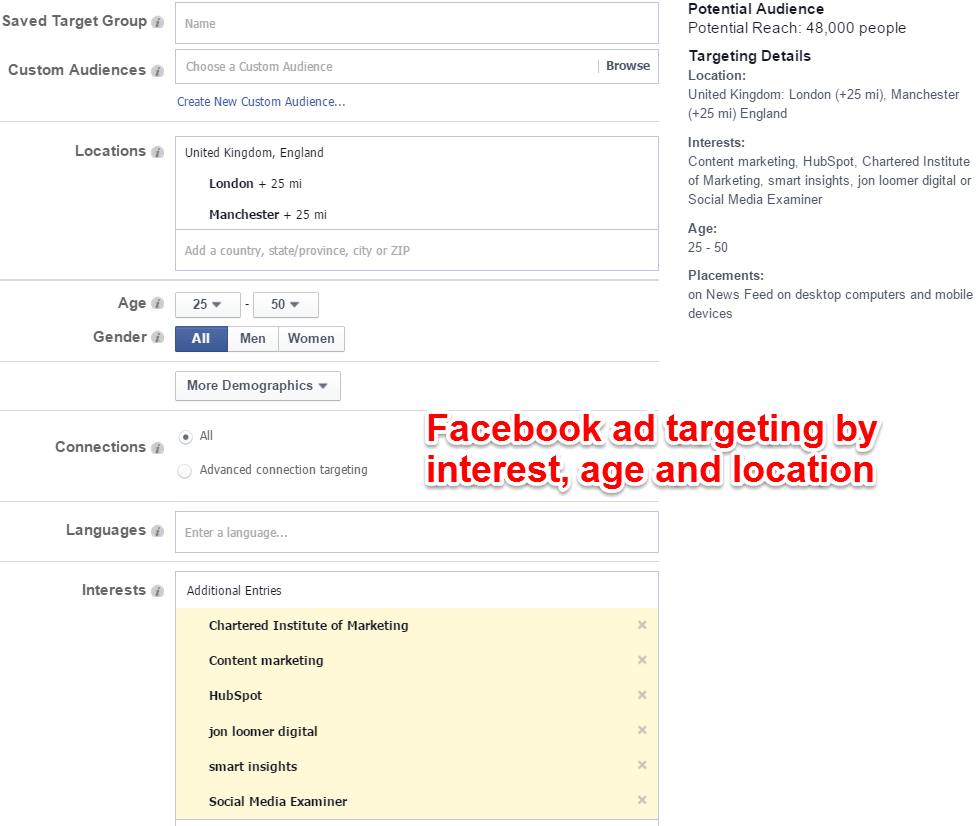 The ability to target ads on Facebook is pretty immense. Facebook knows you better than your friends do. It's used all that history of your stated likes, but also your click history and even the words you use in your status updates to build a pretty accurate profile of you.
And if your response to that is "why do I still see such irrelevant ads then?" All I can do is blame the advertiser for poor targeting practice rather than Facebook itself.
Facebook uses the following information in determining what ads to show you:
Ads similar to ones you've click on before
Information you post and share on Facebook (including Pages and posts you like)
Information about you from your Facebook account such as your age, gender, location and the devices you use to access Facebook
Major life events such as getting engaged or married
Information Facebook's advertisers share with them like your email address.
Your activity on websites and apps off of Facebook that use Facebook login or Facebook social plugins
Offline activity such as purchase history or loyalty card usage supplied by data collection companies
Let's look at the targeting options that are available to you as a Facebook advertiser.
Location
It makes sense to focus your ad budget on the geographic location your customers are based in. Nowadays you can even set location targeting when you"boost" a post.
You can target by country, state/county, city/town or even postcode.
Demographics
Demographic options include:
Age
Gender
Relationship status (e.g. single, engaged, divorced even "complicated")
Education – various US-themed options based on level of eduction
Work – you can target by employers names, job titles and industry (rather like with LinkedIn advertising)
Ethnicity
Generation – Baby boomers (US), Generation X and Millennials (although of course the age targeting can do this too)
Parents – you can target expectant parents and even drill down to parents of children of certain age groups
Politics – this is US-only and includes those that are politically active to various extremes of conservatism or liberalism
Life events – quite a comprehensive set of options such as anniversary within 30 days, away from family, long distance relationship, new job, recently moved and recently married
Connections
This criteria relates to your Facebook "Connections" i.e. your Page's fanbase, app users or event attendees. You can choose to target fans only (pretty essential in these days of low organic reach) as well as people who are friends with your fans.
One useful option here is to EXCLUDE people that are already connected to you. For instance, if you are running a Page Like Campaign, you won't want to target existing fans.
Languages
Normally left blank, this can be useful if you require niche marketing such as Hindi speakers in London.
Interests
The interests categories are huge. This screen grab from a Qwaya infographic displays the options well: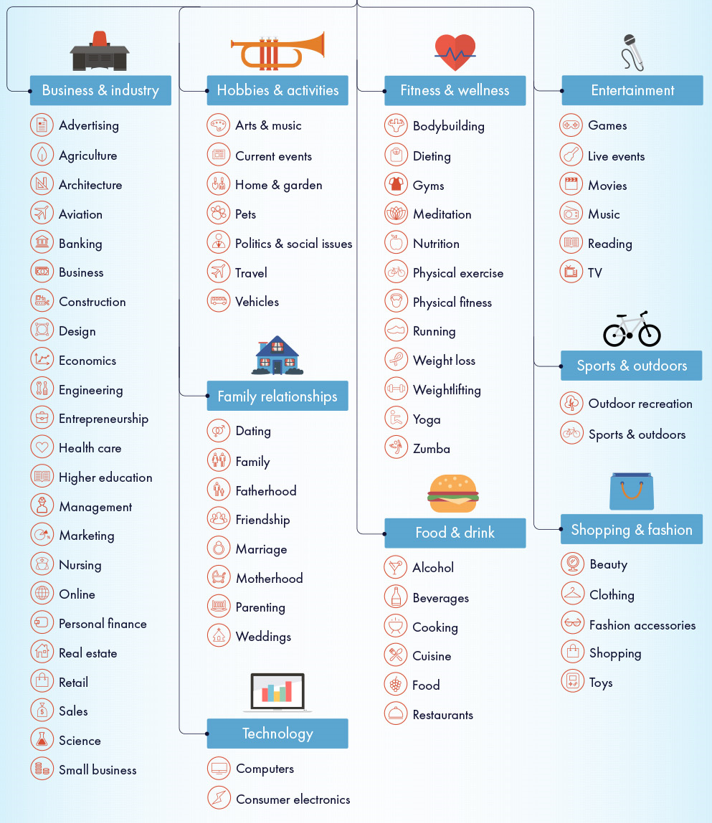 Behaviours
Again another detailed set of options that are highly relevant for certain advertisers. They include:
Travel – not just great for promoting holidays – think about swimwear for those planning to travel, apps for commuters or reward programmes for business travellers
Mobile device users – drilling down by different device type
Digital activities – including early tech adopters (I've targeted this segment very effectively in the past), to gamers, online spenders and photo uploaders
Because these are purchasing behaviours it can be a very useful targeting tool, particularly when combined with Interest targeting.
Test it. Target yourself
This is quite fun and a good way of learning the ropes. Create a profile of yourself or a friend. Here's mine: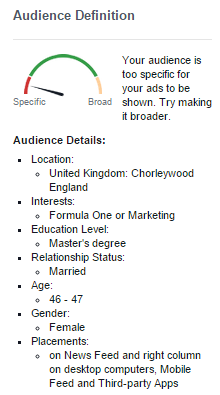 Note with the interests(for this example I've chosen Formula 1 and Marketing), Facebook doesn't combine these (it's an "or" rather than an "and") – the targeting from that would be awesome!
Advanced Targeting – Using Custom Audiences
Custom audiences is my favourite Facebook targeting tool. I'll go into detail on how these work in part 2.
Does it all seem too much? Would you like us to do it for you?!
Facebook advertising seems to get more complicated as every new feature is rolled out. It is becoming increasingly challenging to get right. Ad copy is an art form in its own right. And the targeting options can be overwhelming. More experienced advertisers opt for Power Editor rather than Facebook's "self serve" Ads Manager platform. Power Editor has multiple advantages but can be daunting for newbies.
Over the years we've worked in many guises to help clients with Facebook advertising. At one end of the spectrum we've written the ads, designed the creative, sorted the targeting and handed the client the leads and a detailed report. At the other we've sat down with their team, trained them on the art and science that is Facebook advertising and continued to provide an arms-length coaching and support service.
As well as Canvas, our ads service offers you the ability to test up to 250 different ad and targeting elements in a single campaign – something that's simply not available to you either through Ads Manager or Power Editor. We work with both organisations and agencies to help maximise their ROI on Facebook.
We can help you in one of three ways:

Do-It-Yourself With Coaching
We'll train you and your team (either at your offices or online) to use Facebook ads efficiently and effectively. Prices start from £199.
Get more info.

Done For

You


We'll assess your goals, target marketing, customer profiles and from that build, test, run and analyse your Facebook ads from scratch. Get started here.
Online training
With the Digiterati Academy
Want more help with Facebook ads?
Check out my brand new course 'Zero to Hero with Facebook Ads' in the Digiterati Academy. You'll fast track all my knowledge of what's working to create great Facebook ads right now and feel confident in your ability to run an effective campaign.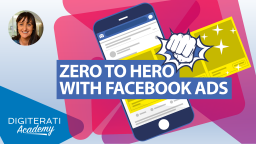 Comments