A successful Facebook Ad campaign requires careful balancing of multiple campaign elements: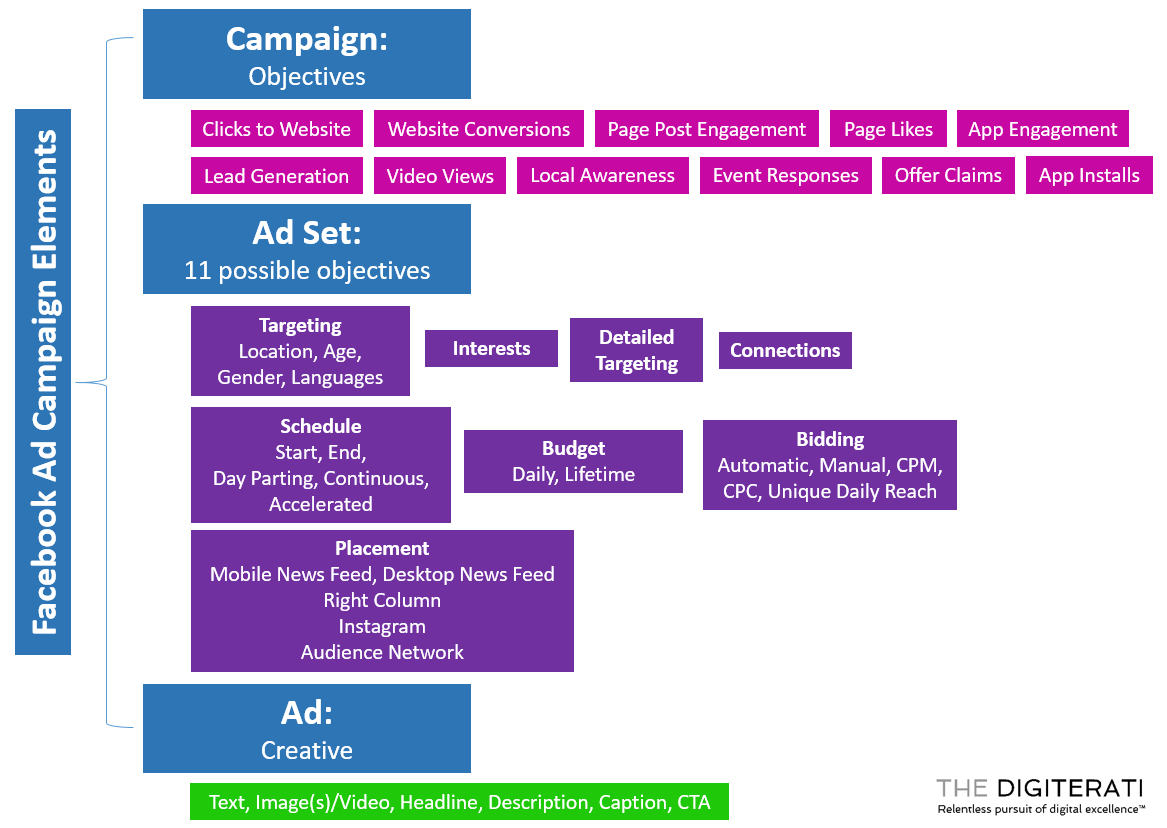 Objectives
The type of ad you create, and where it surfaces, is determined in part by the objective you set. Power Editor and the self serve Ads Manager describe them a little differently. The elements of the ad, size specifications, text length and positioning will all change depending on the objective set.
Creative
There are generally 6 elements to balance with the ad creative itself. We go into best practice for each here.
Ad copy – Sentence length and choice of words can make the difference between a click or a swipe. What message will cause you to stand out from the competition and other posts on Facebook? Many in-house teams know the importance of getting the ad copy right and yet carry on using ads that are weak and ineffective. Copy that is too long ends up truncated in some ad placements.
Image – selecting and sourcing the right image for maximum impact, incorporating copy within Facebook's limitations and choosing the optimal size for the 19 different ad types is essential to maximise impact on the newsfeed and avoid being relegated to a thumbnail size.
Video – very few companies feel confident in this area and yet it's a key ad type that's working right now.
Canvas – Facebook's new ad darling for mobile. We're already using it effectively.
Targeting
Facebook's targeting potential is nothing short of awesome. We've written about targeting here and here to give you an insight into what you could achieve.
Placement
Placement refers to where your ad will surface. We've created an Infographic explaining this.
Split testing
We always recommend testing everything and luckily Facebook's Power Editor software offers a simple split test facility. But if you want to test multiple elements – as you should – this will take a LOT of time and effort. If you'd rather leave it to the Pros we can test up to 250 variables in a single campaign (headline, placement, image, body copy and more). We will automatically optimise your ad based on these results.
Reporting
You need to get familiar with Facebook Ads Manager to understand how your ads and campaigns are performing. It can be rather confusing to say the least. Alternatively with our services we will provide you a regular report with interpretation and recommendations rather than simply a baffling set of stats.
Lead magnet development and integration with eCRM
For many Facebook advertisers, their end goal is to capture email addresses and Facebook's Lead Generation ads are designed with this in mind. Created for "fat fingered" mobile users they help build your mailing list. But you will need an irresistible lead magnet (sometimes called a 'freebie') to incentivise users to part with their email details. Do you have such a lead magnet? And what do you do with the email once you have it? Creating the Facebook Ad is one thing, but the follow-up is crucial. We can help you create the lead magnet and then build a sequence of emails taking the user further through the sales funnel. We can even source and build an eCRM platform for you to enable all that to happen automatically.
Does it all feel too much to take in?
Check out The Digiterati ads service. We offer a supported DIY option as well as a full "Done For You" service.
Online training with the Digiterati Academy

Get affordable, accessible and applicable training with the Digiterati Academy. We won't solve all your problems but we'll certainly make sure that social media marketing isn't one of them.
Join our active community of likeminds, and keep on top of the latest changes and trends with bang up-to-date online training in digital marketing and social media.
Find out more!

Comments